Hi! Marian Goodell, here. We're gearing up for Black Rock City 2019, and are about to begin this year's ticket sales. More important than ticket sales is the work we all do and should do to be good representatives of Burning Man culture on and off the playa.
As CEO of the nonprofit Burning Man Project, I do a lot of listening. People enthusiastically share their Burning Man experiences, ideas, and concerns with me. Lately, participants have been talking about some alarming changes in the culture of Burning Man in Black Rock City, and their speculation as to who and what is causing them.
This past November I attended an academic symposium in Switzerland on the spread of Burning Man culture. A presenter from Finland shared several dozen observations and quotes from his participant interviews. The following really struck me:
"I am disappointed with the attitudes of the mutant vehicle and art car folks. Their gatekeepers are very discriminatory on who they let ride. I was actually told, 'No, it's too late for old people to be out, anyway,' 'you're not pretty enough,' and 'we're only picking up hot girls right now.' I asked other camp members and heard similar stories. One gay couple said they had tried for 3 years to get on a vehicle and they were denied every time." -Retired Artist, Male, 70 [1]
That just broke my heart. How did we get here? Who thinks saying this is okay on or off the playa? This isn't Burning Man.
After Black Rock City 2018, our Communications Team compiled examples of commodification and exploitation of Black Rock City and Burning Man culture. The report is 55 pages long. We've been observing some troubling trends for a few years, but this report stunned me.  
Surely you've seen examples. Whether it's commercial photo shoots, product placements, or Instagram posts thanking "friends" for a useful item, attendees including fashion models and social media "influencers" are wearing and tagging brands in their playa photos. This means they are using Black Rock City to increase their popularity; to appeal to customers and sell more "stuff."
Is this okay? How could it be? Isn't this commodification? Even if the intention is to express gratitude, isn't this an exploitation of the Black Rock City community? What about our principle of Decommodification? It's fair to say this behavior has been around for a while. Posts of gratitude cross referenced with hashtags started off slow and innocently enough, but are now wildly out of control. Failing to make clear what behavior is unacceptable has compounded the problem. I recently heard rumors of more than one product or business launch happening on playa in 2018. Seriously, people. This really isn't Burning Man.
One of the most distressing trends is the increase of participants (both new and experienced) who don't seem invested in co-creating Black Rock City, and are attending as consumers. Mass consumption in our default world, ticket scarcity and some elaborate luxury camps have contributed to the rise of a playa "convenience culture." In some cases, camps or companies are offering "all inclusive" pre-packaged Burning Man experiences, claiming they will preemptively meet all of their client's needs. Burning Man is anything but convenient, and therein lies its transformative potential!
Black Rock City requires significant investments of time, energy, and resourcefulness. Part of what makes Burning Man unique and powerful is that everyone has to work hard to be there. Planning, securing a ticket, packing, building, organizing, contributing, and engaging are part of the journey everyone should experience. Though it manifests differently for each one of us, personal effort is integral to the social agreement we make with our fellow community members when we decide to participate in Burning Man.
Whether it is in Black Rock City or elsewhere around the world, Burning Man is not built for you, it is built by you. Burning Man is not a festival. The invitation to participate is more than an invitation to have an amazing experience. It's about CREATING that experience for yourself and those around you.
Don't get me wrong, there are lots of people who are doing it RIGHT. There are tens of thousands of generous, thoughtful, creative individuals who put in significant time and effort to create an extraordinarily engaging experience that is beyond anything on this planet. But some people just aren't getting what Burning Man culture is all about, and we are all responsible for changing that.
GOOD CITIZENSHIP
In an effort to address some of these negative cultural trends, Burning Man Project launched Project Citizenship in 2017. This effort emphasizes the importance of civic responsibility and participation. Areas of focus over the past few event cycles have included "contributing to Black Rock City," "Leaving No Trace," "being kind to yourself and others," and "being prepared."
As part of this initiative, we have sent emails to tens of thousands of ticket holders, produced and distributed videos, aired public service announcements, added cultural quizzes to ticket registration, included reminders in the ticket purchase process, published a series of blog posts, executed social media campaigns, and created acculturation resources for theme camp leaders and participants (for a full update please see this recent post).
FROM COMMUNICATIONS TO OPERATIONS
While Project Citizenship is an important piece of the puzzle, we know communications alone won't put Black Rock City culture back on course; especially since the people who read and watch are often the people who are already invested and engaged (we are often 'preaching to the choir,' so to speak).
Burning Man Project controls the levers that provide people and their resources access to Black Rock City, and we are actively examining the impact of our own policies and procedures on the city's cultural direction. Over the next two years, the organization is going to implement some operational and logistical improvements to reinvest in our culture. We must ensure Black Rock City's future as a vibrant hub of connectivity, creativity, and generosity.
Burning Man founder Larry Harvey was passionately committed to steering the culture. Before he passed Larry joined the first phase of an initiative to set a cultural direction in Black Rock City for the future. After Black Rock City 2018, we received 4,804 survey responses from 78 countries related to this effort. Respondents provided thoughts on the placement process, the configuration of the city's neighborhoods, and the value of interactivity in Black Rock City. Many expressed concerns (which we share) about the dilution of the 10 Principles such as Radical Self-reliance, Decommodification, and Participation on the playa, and offered perspectives on the role that money plays in camps.
The data collected represents diverse voices and sometimes divergent opinions. For example, one person wrote, "Why shouldn't someone whose heart belongs on the playa also earn a living working within the community," while another said, "If you're paid, then you're not giving a gift anymore." There will be a more detailed update on the cultural direction setting project soon. If you're interested participating, please join the conversation on ePlaya, Burning Man's decommodified forum for year-round discussion (or this group on another site you may have heard of). We expect this initiative will yield more ideas to manage the positive growth of the culture.
2019 BLACK ROCK CITY TICKETING
Part of my role is also to weigh financial risks and to guide operational decisions such as how and when we sell tickets. I know many of you have been anxiously awaiting ticketing details for 2019. We took some additional time this year to reflect on whether ticket decisions we've made have contributed to the cultural challenges we're facing in Black Rock City and, if so, how we might make better decisions going forward.
We will announce complete 2019 ticketing information on tickets.burningman.org in a matter of days, and there will be some substantive changes to the structure of sales. We made these changes with two objectives in mind:
Support economic diversity and authentic engagement in Black Rock City.

Target and reduce factors that have inadvertently fostered a "convenience culture."
Changes for 2019 tickets will include:
Moving the 'Pre-Sale'

to after the Directed Group Sale. We are prioritizing the Directed Group Sale since it supports key contributors to Black Rock City (theme and mutant vehicle camps, art collectives, and core teams).

Growing the Directed Group Sale.

There will be 10% more tickets allocated to the Directed Group Sales. Meaningful participation is the most valuable currency in Black Rock City.

Expanding Low Income allocation.

In our ongoing effort to enable participants with limited budgets, we're growing the application-based Low Income Ticket Program by 18%.

Adjusting high-priced ticket sales.

There will be one high-priced ticket level and we're reducing the overall number available by 30%. Higher-priced tickets will now be limited to 2 per person instead of 4 per high-priced tier, and buyers in what was formerly the "Pre-Sale" will no longer be able to participate in subsequent public sales.

Eliminating the 'Limited Sale.' 

For the past two years one could purchase $1,200 tickets via Burner Profiles into July. This will no longer be the case.
These changes are intended to ensure that those willing to make the trek to Black Rock City are ready to contribute, and will help deter concierge-type camps from purchasing blocks of tickets on behalf of their would-be clients.
You can help, too.
Do not buy package deals to attend Burning Man. Period. You know it's a "package deal" if it includes a ticket and accommodations. If it doesn't feel right, it isn't. Don't do it. There are NO approved vendors for this type of offering.

If you are aware of such package deals being offered or sold,

please report them

to

doingitwrong@burningman.org

.

Do not buy tickets from unknown and non-trusted sources

. And, never pay more than face value plus fees.

Do not let your friends and campmates do these things, either!

Do your part.
The organization will continue to offer STEP, our robust ticket exchange, buy-back, and resale program. Those engaged in projects will find it easier to acquire tickets within the community and those aiming to just attend as consumers and spectators will find it more difficult to do if the community continues to self-police. In addition to making some revisions to the way we sell tickets, we're addressing issues with a few specific theme camps and making some changes to the Outside Services (OSS) program.
THEME CAMPS
In 2015 we published this piece explaining what we were doing about "turnkey" camps. Since then, we have worked to identify camps that were not effectively acculturating their camp members, not delivering on their commitment to interactivity, were overly focused on the convenience or comfort of their campers, were exclusive or uninviting to participants not camping with them, and/or were in some way commodifying the Burning Man experience. The Placement Team provided those camps with specific feedback and education tools, and requested they correct these problems in order to receive camp placement in the future. The majority of camps that were previously struggling stepped up to the plate and shifted the culture of their camps in positive ways.
However, some camps continue to fall short. After negative reports from participants and nearly every Black Rock City operations team, we told Camp Humano that they are not invited back in 2019 as a placed camp. Humano was a strain on resources, had a poor 'leave no trace' record for three years, had a very poor 2018 environmental compliance record including multiple BLM citations, and was the subject of many complaints from neighboring camps. These issues were escalated to Burning Man Project leadership and the BLM. This camp has been given clear next steps to get in good standing, but must make and demonstrate major changes in order to receive future placement.
There are a dozen other camps who've been sent warnings and are being given a chance to course correct. We have also made changes to the placement process for Mutant Vehicle (MV) camps. MV camps that were too large relative to the number of people it takes to build and operate their vehicles now have size limits or must become fully interactive theme camps. Through these changes and others, the organization is going to continue to intensify our efforts to reward camps that are 'doing it right' and weed out those who are poor community members. The integrity of our culture is our highest priority. 
OUTSIDE SERVICES
We started the Outside Services (OSS) Program to help groups build large projects in a timely fashion, and to monitor service vendors and gather information about the growth of camps. Before OSS, theme camps and art projects experienced costly delays at the gate, complicated entry and exit requirements, and difficulty maintaining and servicing equipment. Burning Man personnel were being regularly pulled away from primary responsibilities in order to troubleshoot related issues.
The OSS program grew from 16 credentialed service providers in 2012 to 60 in 2017. This is a 375% increase in just five years.
While many groups use the program in a limited capacity as intended, OSS has become the production backbone for others. Over the years, we've seen huge jumps in the number of RV, trailer, and generator rentals through OSS, and a corresponding increase in environmental compliance violations, including fuel management and grey/black water spills on the playa. We've also seen companies expand their offerings to include convenience items like e-bikes, Segways, mutant vehicle rentals, and loading RVs ahead of time with food and water. This was not the intent of the OSS program, and we are now taking stringent steps to ensure the program is better aligned with the 10 Principles.
In 2018 we started making changes to the OSS program. We limited the number of service providers to the same numbers as in 2017, we didn't allow problematic providers to return, and we allowed only returning providers to participate. We instituted further restrictions by limiting the number of rental items each returning provider could supply. This has successfully capped growth in this area.
For 2019 and beyond we will share more information more quickly about people taking advantage of the system. This includes revealing the name of service providers who have a history of not being forthright in their communications and/or failing to obtain required permits. In the future, it is our intention to help you, the citizens of Black Rock City and members of the Burning Man community, make more informed decisions about who to collaborate with (or who not to collaborate with). We are counting on you to actively help maintain our culture.
We will continue to consider what additional changes may be possible. We want to support complex projects and big ideas on the playa, but not at the expense of our culture.
WHAT COMES NEXT
Burning Man is about connecting with yourself and with others. It's a place and a culture that encourages direct and immediate experience. You get to create your own reality, and to do and make things you wouldn't be able to accomplish alone.
If we are to succeed in fulfilling the mission of Burning Man Project, we must preserve and protect the community ethos that sets Burning Man apart from mass-produced events. Please know that we see the same cultural issues that many of you do, and we're taking steps to address them.
Burning Man strives to stand in technicolor contrast to the typical consumerist, status-driven, brand-saturated, optimized-for-your-convenience world. We create Black Rock City every year because we believe there is value in having an entirely different kind of experience — one grounded in what you have to contribute – to say, make, do, and share.
I'm personally committed to that vision, the staff at Burning Man headquarters and beyond is dedicated to that vision, and we are counting on you to join us.
This is Burning Man.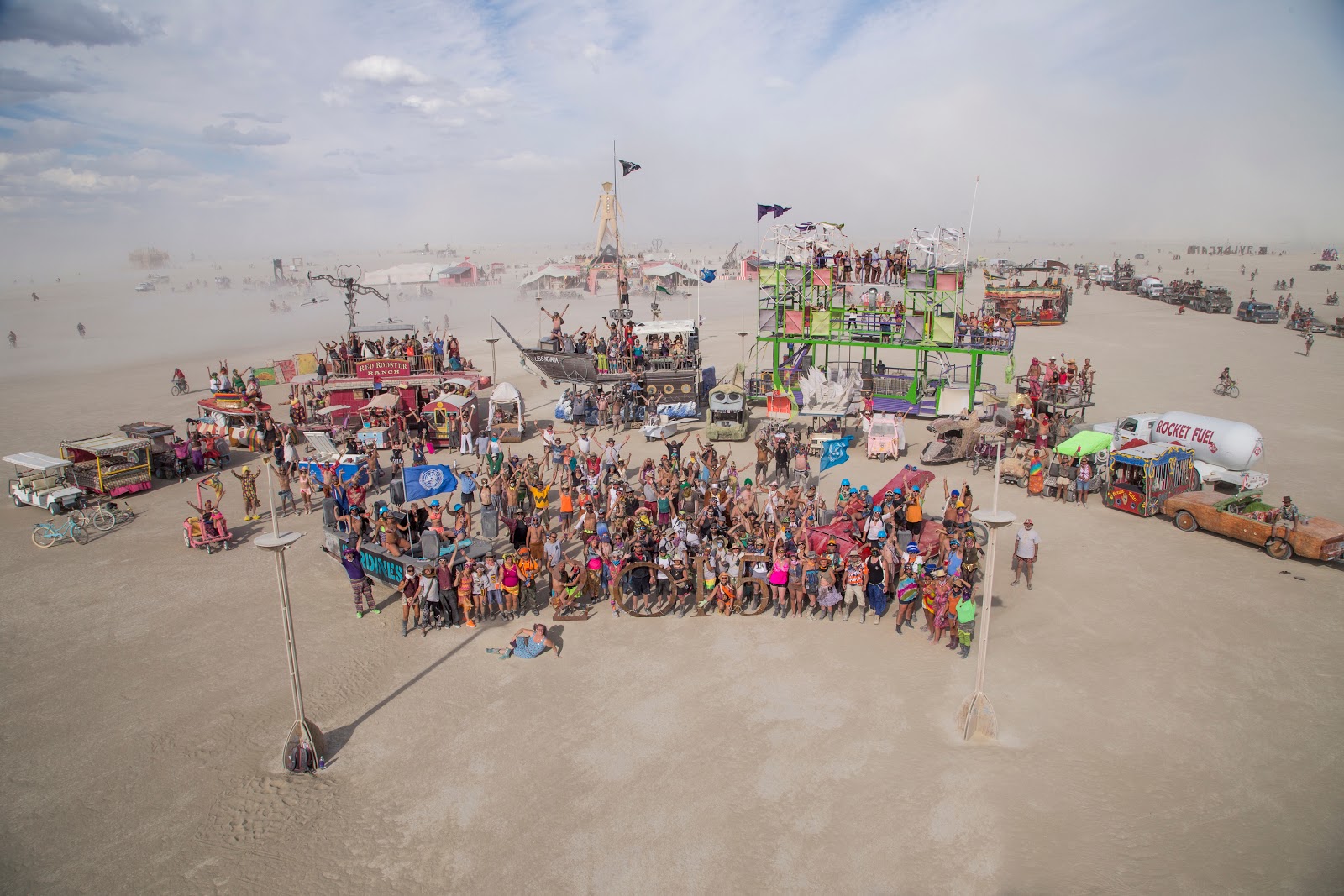 Source:
[1] Data from the Burning Stories research project by Dr. Jukka-Pekka Heikkilä from Aalto University, Finland.
---
Top photo by Scott London