**NOTE: I AM NOT AN OFFICIAL REPRESENTATIVE OF BURNING MAN. I am merely a Participant with a passion for the event, people, and principles of Burning Man. Half-baked ideas & views expressed aren't necessarily those of the Burning Man organization." **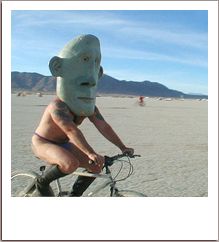 In some cultures, a rite-of-passage involves having your foreskin ritualistically removed with a dull stone.
Suddenly the rite-of passage required to get a Burning Man ticket doesn't seem so harsh, does it?
Was it smooth & effortless? HECK NO.  (I'm referring to the online ticketing…not the ritualistic circumcision.)
Of course, getting to Burning Man isn't smooth & effortless, either.  Almost nothing about surviving in the desert is smooth and effortless…UNLESS you can let go of your expectations and forget your plans.
The truth is that the best things about Burning Man usually happen when things don't go according to plan.  So consider the ticket process as a many-hour (or all-day) crash course in "Non-Attachment."
If you can master that skill *before* the Burn, you'll be in great shape when your trailer breaks an axle, your tent collapses, the dust storm lasts a forth straight day, your camp mate drama melts down, or any of the zillion other "adventures" that are simply a part of the Burning Man experience.
During this chapter of ticket frustration, I was reminded of some of the powerful "Lessons of Surrender" that the Playa has given me. In this video I tell the story of "The Fall of Xara" from Burning Man 2000, speak to the ticket sales frustration, & share "Burning Man & The Art Of Non-Attachment."

** Ticketing suggestions are merely brainstorming ideas, concocted without due diligence of the challenges at hand. **
-Halcyon )'(