On Wednesday, August 21st, a very powerful wind front blew through the beginnings of Black Rock City. There was some warning from weather services, and the staff communicated what was coming to artists and staffers. Most art crews were prepared, and afterwards the ARTery conducted a survey of the art projects for damage.
Many staff camps dove into action in the initial whiteout, strapping down tents and shade structures, despite the fact that most were secured the previous night. But this very powerful storm had higher winds and bent structures that only shook before.
So here's the lesson: plan carefully for the prevailing winds, and use very long stakes and more strapping and ropes to secure your structures than seem necessary. You'll be glad you did.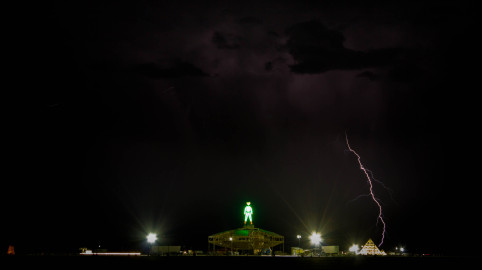 There is another moderate storm warning about one hour from the writing of this post. Always on our toes out here…