By Rob Jensen and Warren Trezevant
It's July. You're freaking out. We know. We've been there. The Man burns in how many days? How will we get this project done?!
In the mad dash to build the Sonic Runway last year, we deliberately avoided thinking about what would come next. The goal was to build a 1,000-ft sound-reactive tunnel of lights in the desert. Everything else was a distraction.
Of course, creative people can't help but imagine what comes next. We got a lot of love for our project on the playa… and also a lot of suggestions:
"Awesome Runway — next year you should make it TWICE AS LONG!"
"Love the tunnel! You guys should put another sound system at the other end!"
"You know what would be awesome? A whole bunch of Sonic Runways radiating out in different directions!"
Yes! All great ideas. In the meantime, where should we store this dusty thing?
One thing we weren't prepared for was the amount of exposure the project got outside of Burning Man. In fact, as soon as we got back home, we started getting requests to install the Sonic Runway at other venues: music and light festivals, tech conferences, and science museums.
Unfortunately, we had to decline most of these initial requests. The Sonic Runway was built for Burning Man, and it would need substantial refurbishing to be installed in another location. We also realized we had little experience navigating the art world off playa. How do you negotiate with venues? How do you assign value to your artwork? All of a sudden, we were dealing with contracts, LLCs, insurance, and a whole world of stuff that doesn't come up when you're a scrappy band of volunteers with a crowd-funding campaign!
One request we got was from Thomas Thompson with Manifestory China, a Paris-based company working with the city of Chengdu. He had a vision to install the Sonic Runway along a pedestrian walkway in the heart of downtown, to help demonstrate the city's increasing impact on fashion, art, and culture.
At first this seemed impossible, but Thomas was persistent. He hadn't been to Burning Man, but he had studied all the online information about our project he could find and had a vision for how to pull it off. He proposed hiring a team of professional fabricators to build a version of the Sonic Runway locally, based on our designs and technical plans, and adapting it to the needs of an urban environment.
We got to work preparing detailed construction drawings and an extensive parts list. We rebuilt all of the control software from the ground up and designed a new set of patterns. Thomas assembled a technical crew to do the fabrication and started preparing an elaborate opening night ceremony.
By the time we arrived in Chengdu, the local Sonic Runway was nearly complete. It was surreal to see dozens of workers finishing the wiring and touching up the paint.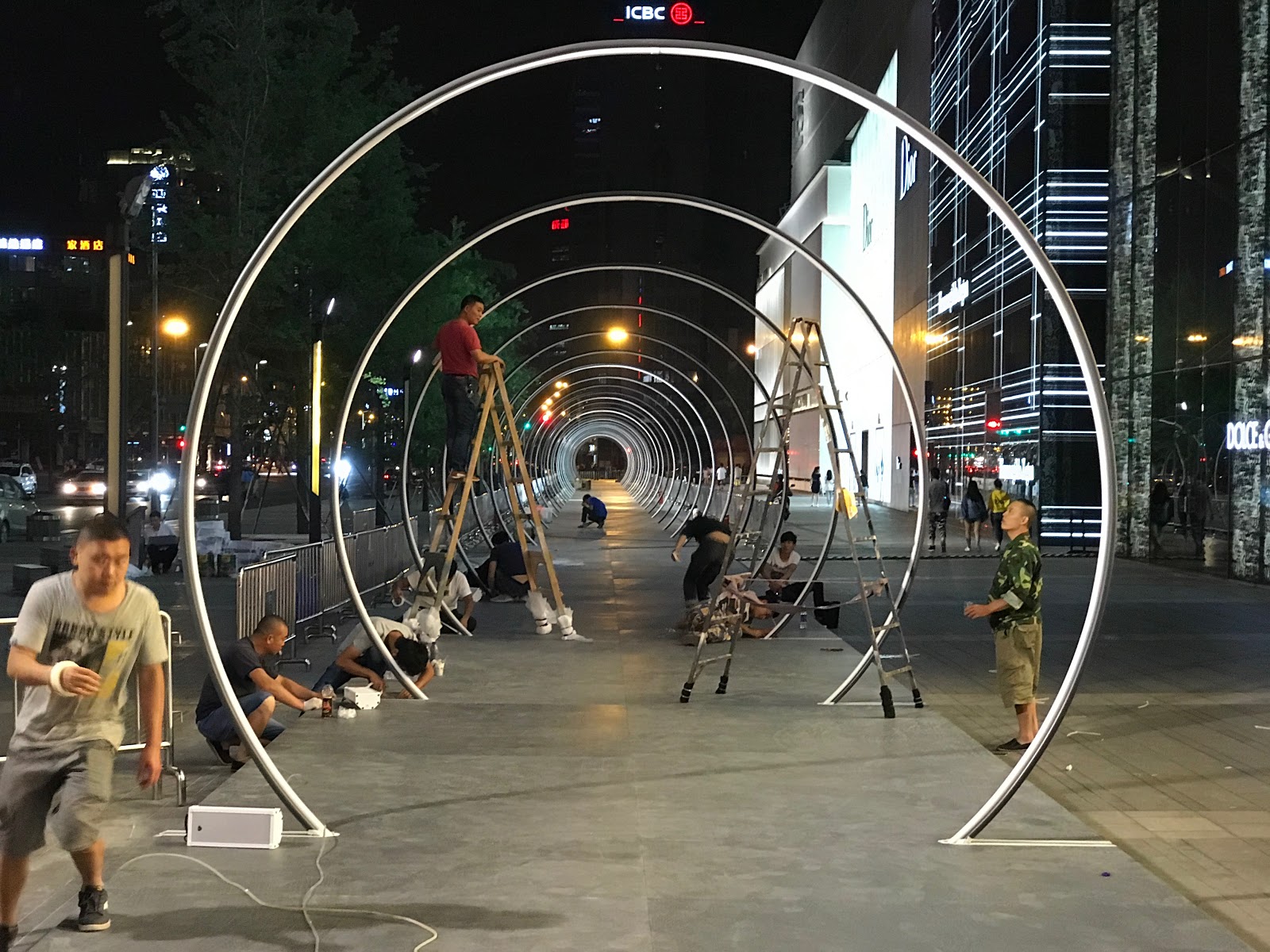 The last step was to plug in the laptop we brought with the control software, cross our fingers, and bring the lights to life!
The opening ceremony was a major production. The Sonic Runway displayed original patterns during a number of performances: a French singer and jazz band played alongside a Sichuan opera group, and then a high-end International Fashion Walk hosted three independent designer brands. The night closed with a DJ set.The following night, the Sonic Runway was unveiled for the public to enjoy. We watched as families strolled along the Runway enjoying the music and lights. Packs of teenagers took selfies, and little kids ran around wide-eyed.
We couldn't have asked for a better first international installation of the Sonic Runway. We are grateful to everyone in the Burning Man community who encouraged, advised, and supported our journey as we reached beyond Black Rock City. This could not have happened without the support of the Chengdu International Finance Square (IFS) and Thomas Thompson for his vision and tireless efforts and dedication.
What's next? We're currently busy refurbishing the "U.S." Sonic Runway so it will be ready to install at other venues. We'll miss the playa in 2017 but are planning to bring it back new and improved in 2018!
If you'd like to stay up-to-date with the Sonic Runway, visit our website or follow us on Facebook.
---
Top photo by Jared Mechaber