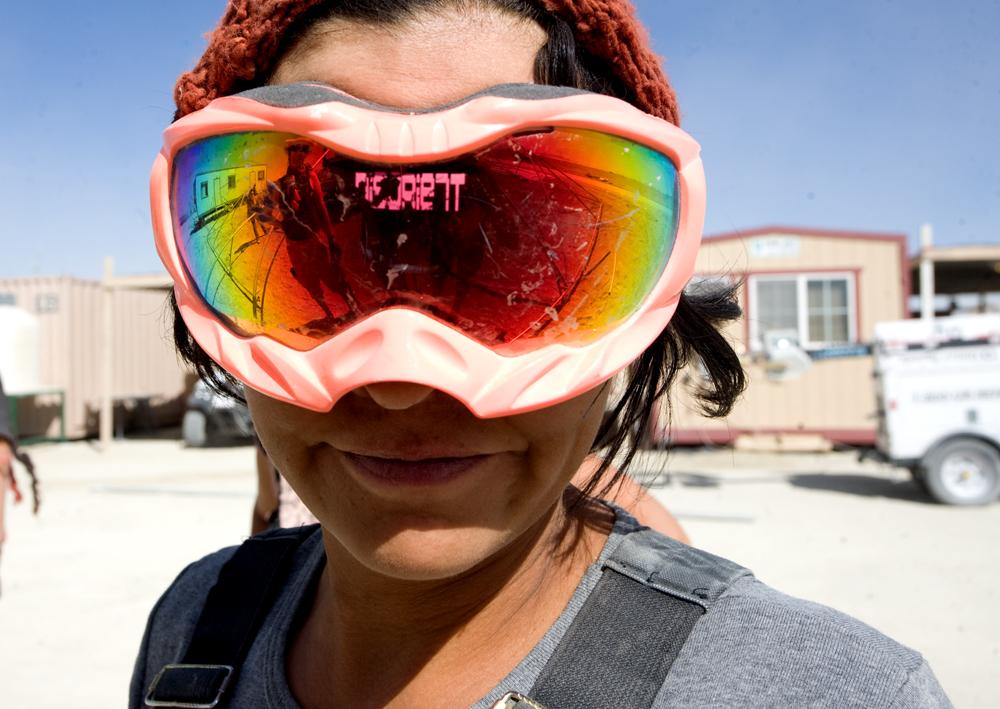 So I know the pictures can make the desert look all pretty and gorgeous and everything, but you oughta know what's really going on out here in the days and weeks before the gates open: A lot of work. A lot of hot, hard, dusty, back-breaking work.
There are blisters on top of blisters, aching muscles and even backs that don't quite stand up straight anymore. There are cramps and sunburn and cuts and scratches and just pure exhaustion, both physical and mental.
There have been holes to be dug, lumber to lift, canvas to stretch, spires to construct, nails to hammer and about 8 million zip ties to tie. It's ridiculous to even try to describe the thousands of things that need doing to put on this party.
Here's a pretty lame attempt at trying: Imagine you've got a new place, and your in-laws are coming. You're still in boxes, but you're on the hook for dinner for 15. Oh, and the deck and the bathroom and the kitchen are in the middle of a remodel. And the nearest store is three hours away. And it's the middle of summer, and the air-conditioning doesn't work.
That doesn't even begin describe what it's like out here.
The DPW crew and others know that most people show up at the gate not really knowing or caring how this all got here. And that's fine; that's the way it is when you go to a party.
So who the hell ARE these people who do all the work? And why do they do it, exactly?
There's no way to answer that question, really. Because people have as many different motivations as people have for coming to the Burn. And don't forget, there will be absolutely no sign that any of this labor ever happened by the end of September or so. It'll be gone. Leave no trace.
So what's it about?
"It's our gift," is what I hear a lot of DPW people say. I've talked to a fair number of them about it, and it always seems to come down to that. "We threw you a hell of a party," as Niko put it the other day.
But there's something else going on, and it's hard to define exactly what it is. What do these people get out of doing all this work? Yes, some get paid, and they get fed, and maybe a place to stay. And they get free admission to the event.
And of course there's also the feeling of community that you get to enjoy, the brotherhood that takes hold of the men and women here. You can't go through all this and not feel connected to the other people here, and to something bigger than yourself.
But I'm also guessing that maybe, for a lot of people, this is the place where they get to feel like they are giving something back. They might be kind of on the periphery in the default world, the independent operators, but here they are the true citizens, with all pride and sense of civic responsibility that comes with it.
I'm going to generalize for a second and say that these are the kids who were the wild and crazy ones in high school. The ones you wouldn't dare sit with in the cafeteria. They laughed louder and had more fun and had more sex than you did. But here, out here, is where you get to see how much heart they have. And guts.
Some of the crew have been here since May. It's their life. They are dustier and crispier than the people arriving every day. And you won't really notice them when you get here, because it's not likely they'll be on an art car. But they might be wearing one of those cool t-shirts with the orange Burning Man symbol on the back.
Be nice. They've earned your respect.
Here are some of the people to look for when you get here: