Leaving No Trace: A Critical Moment and a Call to Action
This was not our cleanest victory.
Returning to the playa after two years of lockdown, the Burning Man community appears to be at a generational turning point regarding the future success of our Leaving No Trace (LNT) principle — and therefore, of Black Rock City itself. I cannot overstate the importance of the communal LNT effort needed to successfully undo our impact on the land every year. Worldwide, the Burning Man community is rooted in Leaving No Trace, and all of the beauty on the playa was made real because of this. As manager of Playa Restoration (Resto) since 2005, this community has made a believer out of me. You've cleaned up after yourselves year after year, which has meant that we've successfully passed the Bureau of Land Management (BLM) Post Event Inspection every year, even as the scope of the event and our population grew toward 80,000 citizens. In 2022, once again, you did your part and we did indeed pass the BLM Inspection, but it was extraordinarily and alarmingly close. Moving forward, this is the critical moment when we need to recommit to building, burning, and Leaving No Trace like we fucking mean it.
After a near perfect LNT year in 2019, 2022 was one of the messiest playas in recent history. It was evident by the intensive follow-up work needed by the Playa Restoration Crew that our community struggled with the cleanup effort needed to return the Black Rock Desert to its pre-event condition. Many camps and projects had trouble striking infrastructure and line-sweeping their square footage. The excessive heat, punishing winds, blinding dust storms burying MOOP, early departures, and fatigue were all factors. But with improved planning, education and acculturation, we can do better. Burning Man culture was born of these harsh desert landscape conditions, grew strong in these conditions, and learned to thrive in these conditions. 
Playa Restoration's mission is to follow up participants' Leave No Trace effort in Black Rock City. Resto is not here to clean up after you — we're here to check your work. First, and most crucially, you need to do your part. Only with our combined effort can we make Black Rock City disappear like it never happened. 
MOOP Map 2022: Introducing The Clear Version 
For the first time ever, we're introducing an alternate, clear version of the MOOP Map. Here, the historical standard color of GREEN is replaced by CLEAR to better depict the severity and locations of MOOP (this is, after all, the original purpose of the MOOP Map). Otherwise, the map below shows exactly the same data.
The Standard MOOP Map 2022: The Green Version
Now, for comparison, here is the good ol' green version of the MOOP Map we all know and love. Keep in mind, this shows the exact same data as the clear version. For those motivated by green: fantastic work — keep setting the bar high. 
Yellow and red: from the whole community, we're imploring you to step up your LNT game — the future of Black Rock City is at stake.

Since the first official MOOP Map in 2006, green doesn't mean perfect — it simply means we were able to move quickly without needing to stop and record specific MOOP data. Over time, the positive perception of green on the MOOP Map has overshadowed the focus of the MOOP itself. 
Going forward, green is still a great goal. For those who are motivated by and strive for green, please continue to do so in 2023 and beyond. Especially as we ramp up to Burning Man's 2030 Sustainability Road Map goals of No Matter Out of Place, Being Regenerative, and Being Carbon Neutral… GO FOR GREEN!
Use this MOOP Map slider to compare clear and green maps!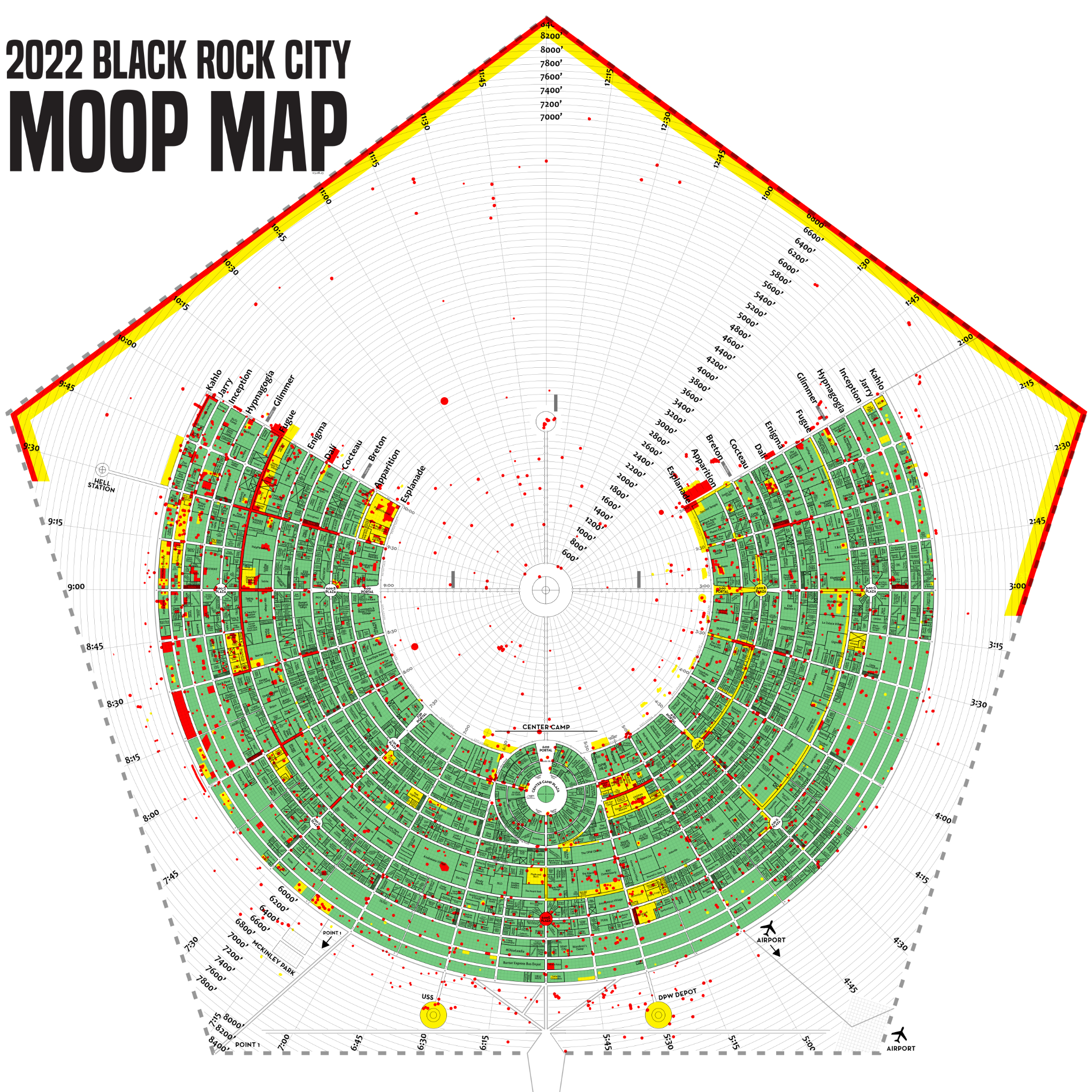 The New Number One MOOP (And the Most Dangerous): Tent Stakes/Rebar/Lag Bolts 
Resto recorded approximately 3,000 MOOP data points by GPS. By far the most alarming were the 1,023 spikes, tent stakes, rebar, cement stakes and lag bolts found still in the ground and marked red on the MOOP Map! Of the total recorded MOOP data points, one third were spikes left by participants. This is an astounding 900% increase from the 100 spikes found in 2019. Spikes in the ground are the most dangerous (and most abundant) category of MOOP. They can puncture tires, cause injuries and vehicular accidents, and are a violation of our Leave No Trace community standards. So, what the hell is up with all the spikes left in the ground, Black Rock City?! Did you forget how to pull them out of the ground? If so, here's a quick video tutorial on how to pull spikes out. (And a suggestion of a tool you can use to get them out.) Or did you forget where you nailed your spikes into the ground and lost them in the dust? If so, please flag your spikes so you know where they are. This is a serious problem that must be corrected in 2023: ALL SPIKES PUT IN THE GROUND MUST BE ACCOUNTED FOR AND REMOVED BY THE PARTICIPANT, CAMP, OR PROJECT THAT PLACED THEM. 
The full list of top ranking MOOP items of 2022 is below.
Playa Restoration 2022 Top MOOP Ranking
Tent stake/rebar/cement stakes/lag bolts – 1,023

Assorted Matter Out of Place – 932

Wood – 400

Plastic debris – 308

Glass debris -271

Metal debris (nails, screws, fasteners, staples) – 204

Micro-MOOP (unidentifiable) – 97

Cigarette butts – 75

Cardboard paper debris – 69

Electronic debris – 47

Food debris – 34

Textiles/fabric – 32

Fuel spills -31

Carpet rugs – 20

Grey water – 20

Black water – 10

Burn scars – 10

Paint chips – 10

Fireworks debris – 2
BLM Post Event Inspection 2022 Results: We Passed, But It Was Close
In 2019, we only failed ONE test area. In 2022, we failed EIGHT test areas — and many other points were close to failure. On October 7, 2022 BLM met with Playa Restoration on the playa where 120 test points were plotted within Black Rock City limits. Each test point was marked with a stake and a 37-foot rope, the radius of which defined the boundary for MOOP debris capture. All MOOP in those circles was collected and labeled. BLM concluded that although it was close, we did pass the rigorous standard of one square-foot-per-acre and no more than 10 percent failed test points. 
A bit of good news — although we came close to the total number of allowable fails, Resto was able to keep the average amount of square foot per acre of MOOP relatively low at 0.4 sq.ft./ac. Moving forward, we will be asking camps to test their areas after their final MOOP sweeps by using the same BLM inspection method, essentially line sweeping in a circular motion within a 38-foot radius. More detail and LNT best practices from Playa Restoration will be published soon in an upcoming Burning Man Journal post. 
In the end, we fought like hell through extraordinarily difficult circumstances, and we passed. Burning Man and Black Rock City are still undefeated. This was a hard-fought victory by the entire BRC community, and I thank you all. Everyone's LNT effort matters. On behalf of the playa, Restoration, and the Department of Public Works, thank you for being there and for Leaving No Trace. 
Once more, into the dust, we will build, burn, and pick up 100% of the pieces for Burning Man 2023: Animalia! See you on the playa! LEAVE NO TRACE!
Playa Restoration 2022 Facts
Black Rock City extends over more than 3,600 acres.

75,069 citizens lived in Black Rock City 2022.

1 square foot per acre is the allowable standard of MOOP.

1 square foot per acre translated into percentages means that we must be under .002% in order to pass a test area. That's essentially zero. Anything above .002% is a fail.

.04 sq.ft./ac. is the average amount of MOOP, which is well under the 1 square foot per acre allowable standard.

11 is the number of one-square-foot-per-acre test areas that we cannot exceed failing.

8 is the number of one-square-foot-per-acre test areas that we failed.

112 is the number of one-square-foot-per-acre test areas that we passed.
---
Cover image of BRC 2022 MOOP Map