In August 2021, we published our Radical Inclusion, Diversity, & Equity Anti-Racism Pledge. We set some short and long-term objectives, and asked: What would it look like for Black Rock City and all of our global communities to be more radically inclusive and diverse? 
A year and a half later, so much has happened — members of the community have stepped up to build art pieces, create theme camps, write stories and produce videos, and perhaps most importantly, share the best of our culture and bring new faces into the fold in Black Rock City 2022. Thank you for everything you have done and continue to do!
It's important to acknowledge again that publishing and sharing this pledge was in no way the start of the journey — plenty of individuals and groups in the wider culture have been working to make the Burning Man community reflect its full diverse potential for years. We're grateful for all the conversations, initiatives, and pushes that motivated us to get the pledge together and to bring more organizational support to these topics. Many of those people have also continued to contribute to our R.I.D.E. work in myriad ways.
We wanted to give you an update on our progress from the last 19 months, and shine the light on some amazing things from within the community. 
Please note that this piece does not and cannot cover the totality of the work being done — there are probably things we don't even know about! If you are involved in or you know of a project, a group, or an initiative related to diversity in the Burning Man community and it's not highlighted below, please leave a link and some information in the comments.
UPDATE ON OUR YEAR ONE GOALS
In the first year of the pledge, we committed to working toward:
Establishing an internal framework for normalizing the work of R.I.D.E..

Making our art grant program more inclusive.

Amplifying communications and storytelling.

Developing an accessible R.I.D.E. community engagement framework.
We're thrilled to report that all four of these commitments and more were met head on. (Please refer to the pledge for more details about each individual goal.) 
Some fun facts and figures from 2022 include:
13.5% of Black Rock City 2022 participants self-identify as BIPOC / non-Caucasian, according to soon-to-be-released 2022

BRC Census

data). That is up from 10.5% in 2019 (and 10.5% in 2018, 9.5% in 2017, and 9.1% in 2016).

A new Multicultural People of Color Neighborhood with a dozen theme camps and villages was formed.

A new R.I.D.E. section in the 2022

WhatWhereWhen Guide

with 52 playa events highlighted.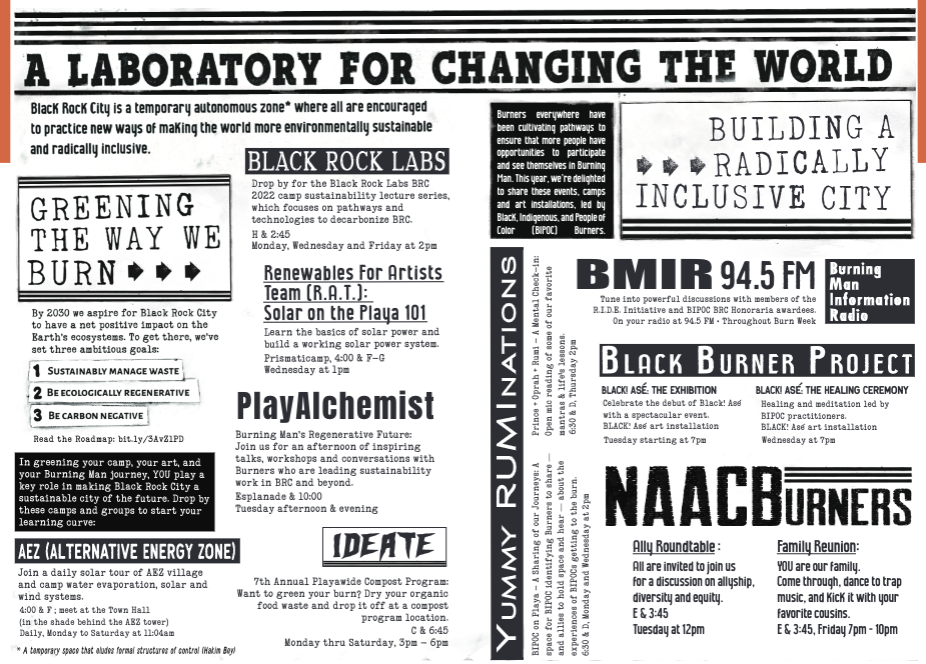 R.I.D.E. around accessibility in BRC was also a focus in 2022:
Thanks to elegant ramps that extended from each side of the Man Pavilion, participants with reduced mobility could more easily access the Man Pavilion. 

National Geographic

featured

Mobility Camp and many other playa projects that make Black Rock City accessible to participants of all capacities and abilities.

The ARTery teamed up with Mobility Camp to offer mutant vehicle mobility tours for anyone who needed support exploring art on playa. 

A new team of American Sign Language (ASL) interpreters supported Deaf and Hard of Hearing Burners on playa, and we offered the first Art Discovery tour with ASL interpreters! 
Now some more specifics about the four "year one" commitments:
Goal 1 — Normalizing work related to diversity, inclusivity, and anti-racism requires long-term multi-pronged efforts. Burning Man Project and the Burning Man community made substantial  strides over the past 18 months. A few of the changes implemented by Burning Man Project, and a sample of community initiatives are as follows
Burning Man Project established a curriculum of anti-racism and implicit bias trainings in

Burning Man Hive

for all new full-time, year-round employees. 

Several Black Rock City teams/departments created new, or modified existing, trainings for their volunteers and camps. 

Black Rock Rangers created a R.I.D.E. delegation to develop a framework for recovery from micro-/macro-aggressions and apply a R.I.D.E. lens for their Intake Teams (for example, Rangers updated their training protocols to include situational awareness of power dynamics related to historically marginalized populations).
Goal 2 — Burning Man would not be what it is without big (and small) art, and 2022 was a year of huge steps towards making the art and artists reflect the diversity of our community.
In 2022, we awarded more than $500,000 in Honoraria Art Grants to self-identified BIPOC lead artists. 

We engaged BIPOC artist communities through proactive outreach, funding, and via application and selection process changes intended to support R.I.D.E..

More artists of color led to greater community activation, diverse programming, and cultural gatherings on playa than seen previously — BIPOC Honoraria art was central to that participation in 2022 with "Black! Asé," "The Solar Shrine," "Build A Seat," and "Facing the Fearbeast."

The R.I.D.E. Stewardship Group expanded to include the Coordinator of the Art Department and the Associate Director in the office of the Chief Operating Officer. These additions help to bring more capacity, perspectives, and operational insights to the group.

Three women of color brought their expertise and experience to the Art Department in 2022: a full-time administrator, a seasonal Artist Liaison, and an Honoraria Committee member. 
Goal 3 — We highlighted stories and storytellers from BIPOC Burner communities and made them more accessible to the public through our various communications channels. Some examples:
View this post on Instagram
Goal 4 — During the 12 months between the pledge publishing and Burners' arrival in the Black Rock Desert, many folks worked to build new pathways to expand BIPOC communities' participation in BRC and beyond. 
One of the most significant initiatives Burning Man Project took on in 2022 was to examine and experiment with R.I.D.E. community access to tickets (for purchase) via the Stewards Program. The R.I.D.E. Stewardship Group administered the first prototype of a R.I.D.E. Ticketing initiative in alignment with our existing practices around ticket distribution. We used a trust-based network to distribute the tickets to first-time Burners.

The network is anchored in the R.I.D.E. Roundtable, cultural leaders lending their expertise and advice to Burning Man Project for R.I.D.E.. Approximately 1,350 tickets were made available to Burners from historically underrepresented identity groups and others supporting R.I.D.E. efforts. 

While we understand that this initiative was billed as a one-year experiment, we see a lot of value in continuing some version of this program as a multi-year initiative, knowing that the work of expanding community in a meaningful, integrated way is long-term.

The Stewardship Group hosted two workshops on Burning Man Hive to introduce the R.I.D.E. Stress Test tool to organizers in the Burning Man community and adjacent groups. The goal of the Stress Test is to help organizers identify blindspots or oversights related to inclusion, access, and representation. The tool was shared with community organizers at the 2021 Multi-Regional Summit, a leadership event for the Northern California/Northern Reno area, and the 2022 Southeastern Leadership Roundtable, a leadership group in the Southeastern United States.

Regional Contacts, official Regional Event producers, and community leaders across the global Burning Man community joined a discussion of R.I.D.E.-In-Action at the virtual Regional Network Forum.

Official Regional Event producers shared that ticket aid and ticket access programs, followed by art grants, and direct outreach to under-represented communities had the biggest impact on driving diversity at their events. 

Several Regional Event producing groups added R.I.D.E. roles or teams in 2022.

The R.I.D.E. Roundtable was formed as a series of quarterly meetings. Additionally a Burners of Color Resource Group was established on Burning Man Hive to support interested BIPOC Burners, particularly ones who are newer to the community and Black Rock City.

We partnered with the nonprofit

We Are From Dust

and their new program, Art Bar None, which is dedicated to getting BIPOC artists to playa.

In the fall of 2021, R.I.D.E. Volunteer Coordinator Michaële Antoine began developing an inaugural R.I.D.E volunteer crew. Examples of what this team has been working on include: 

Supporting the inaugural R.I.D.E. Ticket Initiative implementation

In collaboration with Vegas Queen of the Volunteerism Team, piloting a R.I.D.E. Along Program, to connect BIPOC Burners with teams on playa to learn about their operations and how to get involved

Developing an initial R.I.D.E. Volunteer Strategy.
This team's aim is to connect the dots of the R.I.D.E. work happening throughout the Burner ecosystem, and to work together in support of the community's efforts related to belonging and justice. Reach out to connect and learn more about ways to get involved! 
LOOKING AHEAD TO BRC 2023 (AND BEYOND)
All of this is great, but we're not stopping! The pledge outlines three-year goals, and some big ambitions (again, refer back to the pledge to learn more). We've already started up on some of those, and we'll be sharing more soon. On our docket for this year already:
We plan to hold another town hall-style forum in the near future to hear directly from participants about this year.

Offering more

R.I.D.E. Stress Test

training to further circulate this tool, and develop a community of peer leaders to support one another in interrogating our own blindspots

The Art Department is excited to announce Q&A Sessions for the Temple and BRC Honoraria Grant Programs: For the first time we offered virtual Q&A sessions with Burning Man art experts for the Temple and BRC Honoraria grant programs where potential applicants could ask us anything. We had more than 300 participants, including people from over 14 countries and from all walks of life. This is equity in practice. Offering these opportunities allows for more people anywhere in the world to learn more, feel more confident in applying, and submit the best possible proposal.
There is, of course, much more to be discovered, and the path will reveal itself organically as we move forward. We're thrilled to be on this…ahem…ride with all of you, and we can't wait to see what creativity, art, and magic is set forth this season. If you have any questions or would like to be more involved in Burning Man Project's R.I.D.E. work, feel free to email diversity@burningman.org.
---
Cover image of "Paradisium" by Dave Keane & Folly Builders and "Smile High Club" mutant vehicle by Greg Keegstra (International Terminal G), 2022 (Photo by Jamen Percy)