When Burning Man Project is offered the opportunity to work with partners in ways that bring our culture out into the world, we take into consideration several factors. Simply placing an object in space does not constitute a sharing of culture. But when there is an opportunity to learn, to grow, to share, and to engage with a community in such a way that there is participation and engagement, then we pay attention. 
When we were approached by Google to work with them to animate the plaza at their newly envisioned Google Visitor Experience, we were excited to say yes because of the commitment between Google and the City of Mountain View to create a place for people to inhabit, to linger, and to connect. It was with this vision that we proceeded to engage across the community with coffee talk sessions, design thinking workshops, and explorations in symbol and archetype. (And despite the popularity of that 2019 April Fool's Day article, NO, Google did not buy Burning Man.)
During this process, 30 volunteers from the Burning Man community helped the artists prepare their final presentations; community support extended well beyond the Google project. See all finalist submissions for the anchor artwork.
We are proud to share what has happened since we began in 2018, and now culminates in the opening of the art plaza — with installations by six artists who developed their creations in response to the design elements we discovered were meaningful to the community. This included qualities such as verticality for wayfinding, out-of-the-way places to be in public but not in a crowd, ways to touch and play, and elements that were inspiring. The end result reflects our collaborative process with the community; in this way we are living our commitment to bringing a culture of interactivity and innovation out into the world.
In addition to placing six pieces in the plaza outside Google's stunning new Gradient Canopy building (previously known as Charleston East), we worked with nine artists, six of whom are Burners, to install their work in the courtyards and interiors of three Google buildings.
Introducing the Art and Artists
The six pieces installed at the Google Visitor Experience were facilitated by Burning Man Project in collaboration with Google and the local Mountain View community. Together, the organizations listened to the community's stories of childhood adventure and curiosity, and heard a desire for playful, interactive experiences. 
The result: six whimsical and thoughtful artworks that engage visitors physically and intellectually.
Kim Cook, Director of Creative Initiatives at Burning Man Project, spoke about the plaza's value to the surrounding Mountain View community, "We are always inspired by the opportunity to explore how we can alter individual experience by inviting people to explore, touch, and interact with art. With this plaza we hope that people will find a sense of place that is their own and reflects the larger intent to welcome people to stay, to linger, to be with each other while experiencing the art and larger environment that was so thoughtfully designed for public participation."
Two of the artists have built work in Black Rock City before. Mr & Mrs Ferguson installed one of their whimsical penny bears, "Curious" at the Google art park. If you were in Black Rock City 2023, you may recall their Lincoln Bear, or maybe you've experienced their popular pieces from previous years. And Zachary Coffin installed his kinetic "Rockspinner," which miraculously enables even the smallest child to spin a multi-ton boulder. Many Burners have climbed and swung from Zach's monumental concrete blocks and boulders in Black Rock City.
But really, any of the work in Google's new art park would fit in seamlessly at a Burning Man community event or space. Here are the other four pieces that can be explored at the Google Visitor Experience:
Architecture and computation studio THEVERYMANY created "The Orb", an ultra-thin, self-supporting aluminum sculpture made up of 6,441 individual flat pieces and 217,847 rivets, assembled by hand, piece by piece, from the ground up. 
Michael Szivos leads SOFTlab, a design studio based in New York City. Their piece, "Halo," takes its formal inspiration from the pavilions typically found in Romantic English Gardens. While the exterior is clad with vertical aluminum tubes, the interior is formed by a crystalline structure clad in dichroic acrylic. The stark difference between the simple exterior and faceted interior gives the impression that visitors have entered a geode.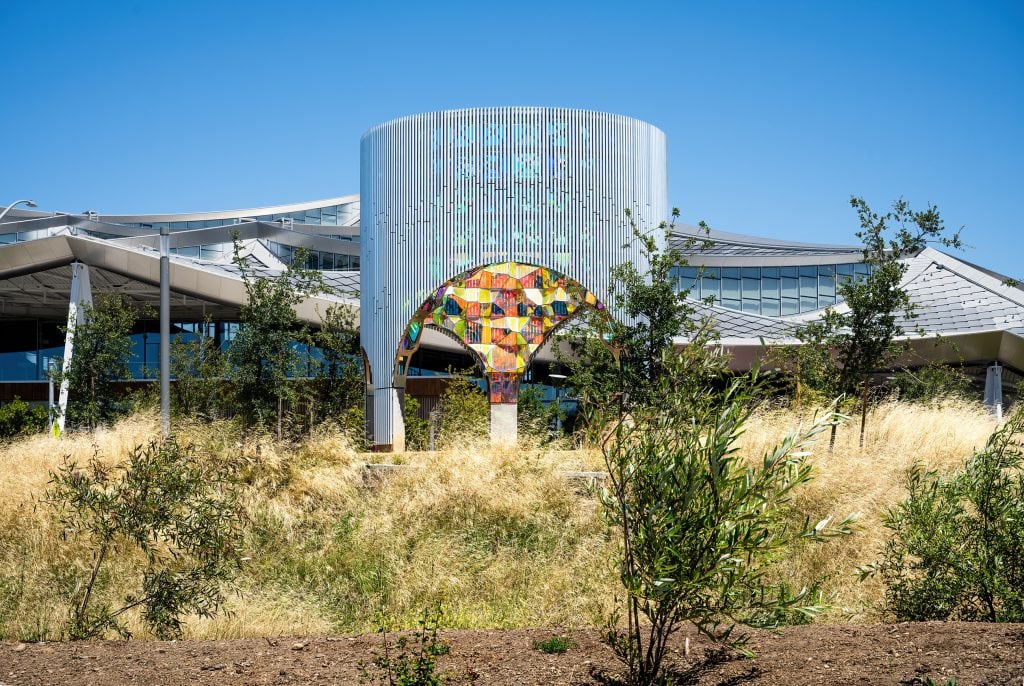 "Quantum Meditation II" by artist and quantum physicist Julian Voss-Andreae is constructed from "wave fronts" — parallel slabs of stainless steel. Experience how an apparently solid figure virtually disappears when you cross the line of her gaze.
Nancy Hou and Josh de Sousa form the two-person design practice Hou de Sousa. Their piece, "Go," is modeled on the world's oldest board game of the same name, which originated in China some 4,000 years ago. Flip the black and white discs to make patterns, or to ponder one of nearly 600 questions (just 0.000016% of the 3.5 billion asked on Google each day!).
We caught up with Lisa Ferguson, member of the two-person Mr and Mrs Ferguson art team about their piece, "Curious". 
"It's a friendly piece, the curiosity. Our work is a little different than some other Burning Man projects, so we just thought, 'Let's do what we're best at to see if they like this sort of thing.' And gladly enough they did. 'Curious' is probably two and a half times larger than a live California Grizzly Bear. He is sitting on his heels and staring down at the participants. Of course, the participant is curious about why this bear is made of pennies. Maybe also the bear is itself looking down on the participant as a curiosity as well."
Nancy Hou and Josh de Sousa elaborated on the relationship between the discs and the questions written on them: "We wanted it to be intrinsically tied into Google's foundations and the basis of their organization," explained Josh. "We wanted the piece to be something that changed over time, but also drew people in and was a conversation starter and something that allowed them to encounter questions or lead them on a journey they hadn't expected before they got there."
Josh mused on the curation of the art park, and how the various pieces speak to one another: "I think the curation of them was really nice. There are multiple threads that run through them, connect them to each other even though they're super different… They're all unique, but you can find these threads and it feels cool to be one of those touchstones."
In closing, we wish to take a minute to express our fond remembrance and gratitude to Affinity Mingle, an extraordinary volunteer who gave her heart and untold hours to support this project.
---
Cover image of artists Mr & Mrs Ferguson with "Curious," at the Google Visitor Experience