Hi, Burners. If you're anything like me, this has been a rough week. Re-entry after Burning Man is always strange, and I think it gets stranger every time.
Fortunately, my friend Hannah is getting pretty practiced at dealing with decompression, and she wrote up a list of suggestions she's shared with us for the Burning Blog. Read on!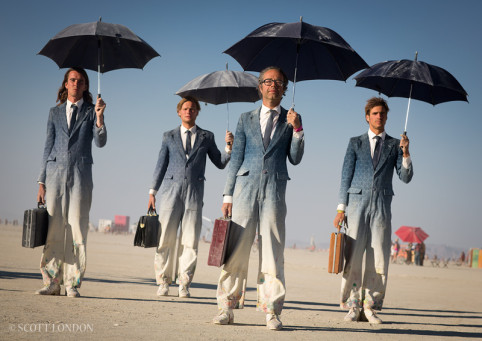 by Hannah "Meow" Masius
Today is what I call my "Out of Place" day. I've come back from spending over a week at Burning Man, and even while I'm approaching my veteran status with a 4th year completed (and building a camp for others to enjoy to boot), I still have to mentally prepare myself every year for coming "home" to feeling out of place in the default world.

Today, I experienced all of the steps for dealing with the strange feelings after Burning Man, and I came out the other side in a few hours. Here's how I did it. I hope this list can help people work through their weirdness, continue to be open and honest, and find emotional healing.

1. Let Yourself Feel

If emotions are kept buried, they turn into distorted versions of who you truly are and can expand until they are all-consuming. Let it out in any way you can (and what feels comfortable for you). It's the best way to start the process. Cry, scream, laugh, whatever feels natural to you will help the most.

2. Write It Out

Go be an absurd pony eating Sadness Pecan and Rage Butter I Scream and write whatever the hell is sticking to your mind, because when it is out, even if it means writing the same thing one thousand times over, it is a release that can help immensely.

3. Go Outside

Coming back to the world outside of the playa can be rough. So many of us are going from constantly being outside and engaged physically (riding bikes and walking) to usually sedentary states inside with various forms of work. We are human beans, such wonderful organic creatures that require sunlight, fresh air and physical engagement in order to function properly. When feeling overwhelmed by being back, give yourself (at least) a five-minute break to go outside to breathe, walk, and decompress. Even if it is raining or snowing, the change of scenery can make everything much calmer.

4. Do Something Wonderfully Absurd

Today, I walked to a store, bought myself a salad, and went to a local park to continue to enjoy the sunshine. I started feeling frustrated at myself because I forgot a fork. Then, I stopped the irritation by remembering that I could eat this salad sloppy style with my bare hands. Digging my hands into kale, beans, salad dressing and avocado to mash it into my face put me into a space of loving myself for doing something slightly out of place with normal behavior.

If you stick by the rigidity of others expectations, it will pull you down. So, whether you wear a unicorn horn for sport or dance through the streets without a care, do something like you are the only person watching, and allow yourself to feel the freedom within your soul.

5. Spend Time With Friends and Loved Ones

In the middle of my hand-to-mouth salad experience, I heard my name called in the distance. All of a sudden, I spotted three friends whom I hadn't seen since December running towards me with open arms. We descended into a puddle of hugs, cuddles and deep talks that made me remember that close, real people are part of what make life — on and off playa — so special.

Try not to close yourself off from those who care about you. It's very easy to descend into a mental loop that no one else will understand, but everyone has their issues they are working through, even if they are saving face while doing so. If someone you feel close to ends up dismissing your feelings, that is more indicative of their issues than yours. That can be a way to understand the true value of their closeness (or lack thereof) in your life.

6. Give Yourself Some Love

As my friends were getting ready to leave, they asked if I wanted to join them on their next adventure. I declined, instead choosing to write this article. My version of self-love is continuing to develop my writing practice. Your version of self-love could be singing, dancing, eating good food, seeing a movie, or taking a Long. Hot. Bath. With. Chocolate. It really doesn't matter what the practice looks like, so long as it comes in the form of savoring your delicious self.

You are not alone, we are here to make the world a better place, and I love you just the way you are. This is what communities are about, my friends. Stay Dusty!
All photos by the incomparable Scott London.