It doesn't seem all that long ago when everyone at Burning Man came from California and the only language spoken was English. This year, in a single night, I overheard conversations in Russian, Japanese, Mandarin, Dutch, German, French, Portuguese, Afrikaans, and a half-dozen other tongues I couldn't ID. I clinked glasses with a cider-maker from England, an architecture student from Russia, and an intrepid young South African named Kayden, who had ridden his bicycle all the way to Black Rock City from the RSA.
According to early census numbers, nearly a quarter of our city's population now comes from outside the US, or roughly 17,000 people this year. And for every one who makes it to BRC, how many friends did they leave back home who would love to join us if they could? Though now written on a global canvas, it's an old story: people come to BRC and get their lives changed, and they take that experience home to whatever part of everywhere they came from. Maybe they'll be back next year or maybe they won't, but they can't stop thinking about it, talking about it, and wanting to live this way year-round.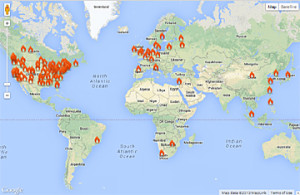 Small wonder, then, that the Regional Network has grown so dramatically over the past few years, with hundreds of sanctioned groups now hosting scores of burnerish events around the globe. Afrikaburn alone had over 7,000 attendees this year. Whatever it is we've built here in the desert, demand clearly outstrips supply. The playa can only hold so many, but we're not just the playa anymore – we're the planet.
This global spread of our culture – organic, viral, and largely unplanned – is where all the action is. On a personal level, it's why I chose to rejoin the Burning Man Project after a long hiatus. How do we channel and fuel that mad growth? How do we translate the Ten Principles, and stay true to their spirit as we cross cultural and linguistic boundaries? How can we continue to serve as a catalyst for positive change in the world? From the beginning, we've always viewed our event as an experimental community – but who could have guessed that the subjects would assimilate so completely with the observers, burn down the lab, and take the experiment to so many corners of the globe?
If you're wondering what part you can play in all this, I have a few suggestions. Pick a region – any region – and get involved with your local burners. Maybe it's just an afterburn they're after, or maybe it's something more ambitious, like the YES project or the Carver Garden Alliance, two great examples of how burners are working with kids in their local communities. If there isn't a regional group yet in your area, think about starting one. And if you're short on free time, but still want to add a little fuel to the fire, consider making a tax-deductible donation to the nonprofit Burning Man Project. Your dollars – or yen or rubles or pounds – will help keep things burning those other 51 weeks of the year.
Thanks to all of you. Danke, merci, xiexie, and gracias. Wherever you live in the default world, you are part of an amazing global community. The playa speaks, and the world is listening.
Stuart Mangrum coined the phrase "TTITD" and claims to have seen the Playa Chicken. He works for the Burning Man Project.