We're pleased to announce that we will host our 5th Annual Burning Man European Leadership Summit in Nantes, France on April 5-8, 2018. Each year, we work with a local team of Burners and like minds in different host regions in Europe to build a Summit that's both an opportunity for co-learning amongst network leaders and a chance to experience the richness of a host region. We've had our sights set on working with the French Burners on the Summit for the past few years, and when our hosts at world-renowned La Machine/Les Machines de l'île in Nantes opened their doors as well, we seized the opportunity with excitement.
We'll host our weekend's programming at the Les Machines campus on the Isle of Nantes, alongside the Loire River. La Machine, an artistic company under the artistic direction of François Delarozière, is comprised of artists, designers, fabricators and technicians who specialize in producing giant performing machines, mostly in the form of gigantic creatures. In partnership with the City of Nantes and through the production efforts of Pierre Orefice and a dedicated team, the works of La Machine have made an extraordinary impact in Nantes and have toured to cities across the world. We'll get a behind-the-scenes look at the creative and strategic processes underpinning their efforts, and we'll interact with the mechanical creatures who reside on the Isle of Nantes, including a giant elephant, a spider, and a carousel of epic proportions. We'll also get a closer look at the activities and unique culture of the French Burners community, which has been tremendously active over the years, particularly in Paris. Their events and projects have been nurtured by a dedicated team of Regional Contacts located in Paris, Nantes, and Nice, and this team, along with a few France-based Burners and project leaders, is helping us design and produce the Summit weekend.
The French Connection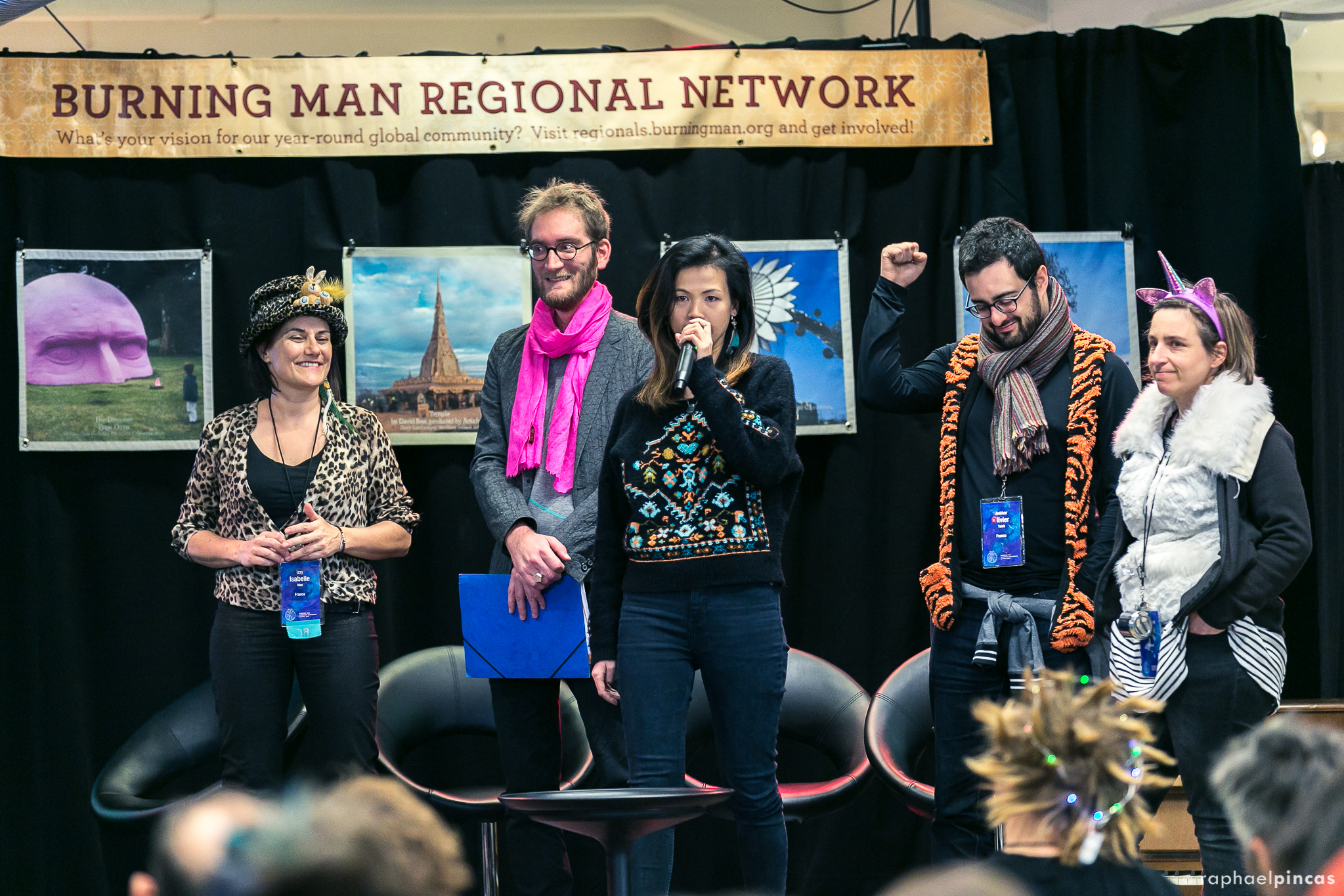 Back in 2016, French Burners from across the country ventured to Nantes to participate in Maker Faire Nantes, a Black Rock City Rendezvous, and to celebrate the 10th anniversary of Les Machines. "The idea was to bring together Burning Man, the Maker Faire, and Les Machines to create an incredible, larger than life zoo," says Bertier Luyt, a French producer who brought the idea to life alongside Les Machines co-founder Pierre Orefice. With support from Burning Man Arts, Jon Sarriugarte and Kyrsten Mate transported The Serpent Twins from the Bay Area to Europe, and visionary artist Android Jones brought Samskara, a 30-foot immersive dome experience to the Maker Faire. A photographic exhibition of 40 Burning Man images by artist Gilles Bonugli Kali from Marseilles were also featured and brought a strong portrayal of our dusty desert city in Nevada to the city of Nantes.
This year, Pierre Orefice came to Black Rock City, and we began to explore the philosophical similarities between Burning Man and Les Machines. Their larger-than-life creatures bring about a new perspective for people of all ages and are intended to benefit the city spiritually, creatively, and economically. The Machines are meant for touch and interaction. Once someone experiences a Les Machines performance, they are likely to be forever changed. This is consistent with the way participants describe their first trip to Black Rock City. Pierre and his team also take a Decommodified approach to their artwork. Like the Man, Les Machines' elephant has no name, and though there would certainly be a market for them, Les Machines does not sell miniatures or models of their creatures. They place the emphasis on direct experience.
"We are very proud [to be hosting the European Leadership Summit in Nantes]," Pierre says. And we are proud to collaborate with Pierre and François and the French Burners to create a meaningful experience for our Summit participants.
Who Will Participate?
As we begin to think about the spaces and places where we'll gather, we'll also be reaching out to Summit participants to collaborate on developing the workshops, talks, activities for the weekend together in Nantes. Invitations will be sent to community members in January, along with a call for content to Burning Man's Global Network. The European Leadership Summit participants will be comprised of Burning Man Regional Contacts in and around Europe, Burning Man staff, and content providers from established Burning Man communities and from other creative networks. We will be evaluating requests to participate based on experience leading community initiatives and events in Europe, and we'll give priority to those interested in leading or hosting sessions. The Summit program will include workshops on community facilitation, organizational development, communications, grant programs, and on Nantes as a "case study" in arts and civic renewal.
What We've Learned From the ELS So Far
Now in our fifth year of hosting European Leadership Summits, we see that we learn something new from each experience, from working with each host community.
In Berlin, we learned a great deal about the ways in which, after the Berlin Wall fell, artists took over abandoned buildings and created beauty, reimagined how they could live, as a way to heal themselves and society's wounds. We also learned that hosting a Summit in a place with a small Burner community can spark more engagement and activity and have delighted in seeing the Berlin Burner community grow over the years.
In Amsterdam, we learned how to collect visions for the future through fun facilitation through collaboration with the THNK School of Creative Leadership. We experimented with using performance art as a fun outlet for Summit participants through a beautiful public procession through the center of the city. We also had the opportunity to deepen our relationship with our first affiliate, Burning Man Netherlands, and to experience the warmth of Dutch hospitality.
In Barcelona, we learned about the parallels between the Maker community and the Burner community through our work with the Fab Lab and Mini Maker Faire Barcelona. We also tried out new tools for team collaboration as we planned the conference and we launched a program through Burners Without Borders to award grants to European Burners looking to make a local impact, including one of our host groups, [ freespace ] Barcelona. We experienced the vibrancy of Barcelona, too, and how it serves a year-round nexus for Burners from across Europe.
In Stockholm, we were inspired by the Stockholm Burners' approach to civic engagement and community building. Beyond the Summit weekend, the local Burners hosted Burning Man Week Stockholm, comprised of over 25 free public art events including a design charrette, a conversation about thoughtful responses to refugee migration, and about the future of education. Through Burning Man Week Stockholm, we learned that the philosophy behind Burning Man and the 10 Principles is just as important to the Nordic community as the social interactions. We also opened the doors of our Summit to the public for an afternoon which gave us a chance to showcase our community's work on a broader scale.
We know that we will learn a great deal during our time in Nantes, as it's a place where art has made a stunning and very visible impact. Les Machines has drawn citizens back to the once-deserted areas around the Loire River and has helped transform Nantes into a center for arts and culture on a global scale.
The partnership between Pierre and Francois, their teams, and the City of Nantes is creative strategy in motion and has undoubtedly been a contributing factor in the city's revival. We see that the Burning Man Global Network's leaders are using their skills, talents, and know-how to create lasting cultural impact at home and may be inspired by Nantes.
Global Network leaders have developed many core competencies through their roles as project and event leaders both at Burning Man and in their regional communities, and we're seeing a desire on the part of many contacts to move beyond events and into the civic arena. Across the world, many Burner groups are engaging city officials, local arts organizations, artists and community members in projects that bring the ethos and values of Burning Man and the 10 Principles into everyday life. We aim to nurture them and provide them more tools and resources at the Summit to help them achieve their highest ambitions with the greatest local impact.
The art installations that delight and inspire us in Black Rock City and at Regional Events are conceived of and built by artists in spaces that influence the communities around them from Oakland, LA, Detroit, and Atlanta to London and Lithuania. Not only can we create meaningful experiences at our gatherings, but we hope we can, like Les Machines, transform the life of a city and stimulate creativity on a grand scale.
As we work to inspire and support our Summit participants, our facilitators of year-round creative culture, Nantes will serve as a beautiful mirror to reflect our dreams for a future filled with civic art and with joy, wonder and creative potential.
---
Le 5ème Sommet Européen de Burning Man aura lieu du 5 au 8 avril 2018 à Nantes, (France)
Traduction par Isabelle Mas
Nous sommes heureux d'annoncer que la France accueillera le 5ème "Sommet annuel des Leaders Européens" de Burning Man (European Leadership Summit, ELS) à Nantes, du 5 au 8 avril 2018. Chaque année, nous nous réunissons dans un pays différent d'Europe et collaborons avec la communauté locale des burners pour construire un Sommet qui soit à la fois une occasion de co-apprentissage pour les leaders de notre réseau et une opportunité pour tous de découvrir la richesse du pays hôte.
Nous souhaitions depuis longtemps organiser notre Sommet Européen avec les Burners français, aussi lorsque Les Machines de l'Ile à Nantes, une institution de renommée mondiale, nous ont ouvert leur portes, nous avons saisi l'opportunité avec enthousiasme.
Nous organiserons ce week-end sur le campus des Machines de l'île de Nantes, au bord de la Loire. La Machine, compagnie artistique née sous la direction artistique de François Delarozière, est composée d'artistes, de designers, de fabricants et de techniciens spécialisés dans la production de machines immenses, qui prennent la forme de créatures oniriques. En partenariat avec la Ville de Nantes et grâce aux efforts de production de Pierre Orefice, leur directeur, et d'une équipe dédiée, les œuvres de La Machine ont eu un impact extraordinaire à Nantes et ont fait des tournées dans des villes du monde entier. Notre événement, nous permettra d'entrer dans coulisses de ce processus créatif et d'interagir avec les créatures mécaniques qui résident sur l'île, notamment un éléphant géant, une araignée énorme et un carrousel aux proportions épiques.
Nous découvrirons aussi de façon plus approfondie avec les activités et la culture unique de la communauté française des Burners, qui a été extrêmement active au fil des années, en particulier à Paris. Leurs événements et leurs projets ont été créés et portés par une équipe dédiée de contacts régionaux (regional contacts) basés à Paris, mais aussi à Nantes et à Nice. C'est cette équipe, ainsi que quelques Burners et chefs de projet locaux, qui nous aidera à concevoir et à produire le week-end du Sommet.
 La "French Connection"
En 2016, de nombreux French Burners se sont rendus à Nantes pour participer à La "Maker Faire de Nantes" dont les organisateurs avaient aussi invités des représentants de Burning Man, à l'occasion du 30e anniversaire des Machines. « L'idée de ce projet était de rassembler des artistes de Burning Man, des représentants Maker Faire et des Machines pour créer un zoo incroyable plus grand que nature », explique Bertier Luyt, le producteur français de cet événement qui a travaillé aux côtés de Pierre Orefice, co-fondateur des Machines.
Avec le soutien de la division artistique de Burning Man (Burning Man Arts) ; les artistes burners américains Jon Sarriugarte et Kyrsten Mate ont fait venir leurs "Serpent Twins" (serpents jumeaux) de San Francisco jusqu'en Europe. L'artiste visionnaire Android Jones a quand à lui amené son oeuvre Samskara qui prend la forme d'une expérience vidéo immersive dans un dôme de 9 mètres de haut. L'événement accueillait aussi une exposition de 40 photos de Burning Man par l'artiste Gilles Bonugli Kali de Marseille pour que les participants puissent découvrir la ville désertique de Black Rock City, Nevada.
Séduit par cette rencontre et cette expérience, en août 2017, Pierre Orefice est venu à Burning Man et nous avons pu explorer les similitudes philosophiques entre Burning Man et Les Machines. Les créatures plus grandes produites par Les Machines offrent une nouvelle perspective à ceux qui les découvrent quelque soit leur âge, et elles participent également au développement de la ville de Nantes et de sa communauté régionale, d'un point de vue spirituel, créatif et économique.
Les Machines sont conçues pour le toucher et l'interaction. Celui qui expérimente une performance des Machines est changé pour toujours. Ce qui résonne totalement avec façon dont les participants décrivent en général leur premier voyage à Black Rock City. Pierre et son équipe ont également adoptent également une approche non-commerciale de leurs œuvres. L'Homme ou l'Eléphant, des Machines n'ont pas de nom et aucune miniature ou de modèle réduit de ces créatures n'est à vendre. L'accent est mis sur l'expérience artistique réelle et directe.
"Nous sommes très fiers d'accueillir le Sommet Européen du Leadership de Burning Man à Nantes", explique Pierre Orefice. De notre côté nous sommes ravis de collaborer avec Pierre et François et avec les French Burners afin de créer une expérience unique pour les participants au Sommet.
Qui Participera?
Nous avons commencé à réfléchir sur les espaces et les lieux où nous allons nous rassembler et nous allons prochainement contacter les participants au Sommet afin qu'ils collaborent au développement des ateliers, des discussions, des activités du week-end à Nantes. Des invitations seront envoyées aux membres de la communauté en janvier, et un "appel à contenu" sera lancé au sein du réseau mondial de Burning Man. Comme tous les ans, le Sommet visera avant tout à réunir les contacts régionaux de Burning Man (regional contact), en Europe et alentours, des employés de Burning Man Organisation, ainsi que des artistes et producteurs de contenu de la communauté burner mais aussi d'autres réseaux créatifs. Mais nous prendrons bien sûr en compte les demandes de ceux qui souhaitent y participer en fonction de leur implication dans les initiatives et les événements communautaires en Europe. La priorité étant donnée à ceux qui souhaitent diriger ou co animer des ateliers et sessions de réflexion. Le programme du Sommet comprendra notamment des ateliers sur les méthodes de facilitation du travail communautaire, le développement des organisations, les outils et méthodes de communication, les programmes de subventions artistiques. Il y aura également des études de cas sur le travail réalisé par la ville de Nantes en matière d'appui à la création artistique et de renouveau citoyen.
Ce que Nous Avons Appris de l'ELS Jusqu'à Présent
Cela fait 5 ans que nous organisons le Sommet Européens du Leadership, et nous constatons que nous apprenons à chaque fois quelque chose de nouveau en travaillant avec chaque communauté hôte.
À Berlin, nous avons pu apprécié sur la façon dont, après la chute du mur, les artistes ont repris des bâtiments abandonnés et créé de beaux espaces, réinventé leur façon de vivre, pour guérir eux-mêmes d'un passé difficile mais aussi soigner les blessures de la société. Nous avons également appris que l'organisation d'un Sommet dans un endroit où la communauté de Burner est petite peut susciter plus d'engagement et d'activités. Et nous nous sommes réjouis de voir la communauté de Berlin Burner se développer au fil des ans depuis.
À Amsterdam, nous avons appris à rassembler des visions pour l'avenir grâce à une animation amusante et à la collaboration avec l'École de leadership créatif THNK. Nous avons expérimenté l'art de la performance comme un exutoire festif pour les participants au Sommet à travers une belle parade ouverte à tous, à travers le centre de la ville. Nous avons également eu l'occasion d'approfondir notre relation avec notre première "filiale" européenne : "Burning Man Pays-Bas" et surtout expérimenté la chaleur de l'hospitalité néerlandaise.
À Barcelone, nous avons découvert les parallèles entre les communautés des Maker et celle des Burners grâce à notre collaboration avec le Fab Lab et la Mini Maker Faire Barcelona. Nous avons également expérimenté de nouveaux outils collaboratifs en planifiant la conférence et, via Burners Without Borders, nous avons lancé un programme pour octroyer des subventions aux Burners européens portant des projets ayant un impact local, dont a bénéficié l'un au rythme de Barcelone, qui reçoit et héberge des burners de toute l'Europe.
À Stockholm, nous avons été inspirés par l'approche des Stockholm Burners en matière d'engagement civique et de co construction communautaire. Au-delà du week-end du Sommet, les Burners locaux ont organisé une semaine Burning Man Stockholm, incluant plus de 25 événements artistiques publics et gratuits, dont une "charrette de conception" (un atelier d'échanges sur les réponses intelligentes à apporter à la migration des réfugiés, et sur l'avenir de l'éducation). Grâce à la Semaine Burning Man, nous avons pu voir que la réflexion sur la philosophie de Burning Man et les 10 Principes est aussi importante pour la communauté nordique que le développement d'interactions sociales. Nous avons également ouvert les portes de notre Sommet au public pour un après-midi afin de présenter le travail de notre communauté au plus grand nombre.
Au vu de ces expériences à travers l'Europe, nous savons que nous allons apprendre beaucoup durant notre séjour à Nantes, car c'est un endroit où l'art a d'ores et déjà eu un impact remarquable et visible. Les Machines ont ramené les citoyens dans les zones autrefois désertées, autour de la Loire, et contribué à transformer Nantes en un centre d'arts et de culture à l'échelle mondiale.
Le partenariat entre Pierre Orefice et François Delarozière, leurs équipes et la Ville de Nantes repose sur une stratégie créative qui a sans aucun doute contribué à la renaissance de la ville. Les dirigeants du réseau mondial de Burning Man qui utilisent déjà leurs compétences, leurs talents et leur savoir-faire pour créer un impact culturel local durable seront sans nul doute inspirés par la dynamique culturelle à l'oeuvre à Nantes. Ils ont déjà développé de nombreuses compétences en tant que chefs de projet et d'événement à Burning Man et dans leurs communautés régionales, et nous pressentons leur un désir d'aller au-delà des événements, dans l'arène civique.
Partout dans le monde, de nombreux groupes de Burners engagent des responsables municipaux, des organismes artistiques locaux, des artistes et des membres de la communauté dans des projets qui unissent l'éthique, les valeurs de Burning Man et des 10 principes dans la vie quotidienne. Avec le Sommet nous visons à les nourrir et à leur fournir encore plus d'outils et de ressources pour les aider à atteindre leurs ambitions tout en maximisant leur impact local.
Les installations artistiques qui nous enchantent et nous inspirent à Black Rock City et lors des événements régionaux sont conçues et construites par des artistes qui influencent les communautés qui les entourent, à Oakland, Los Angeles, Detroit et Atlanta comme à Londres et en Lituanie. Nous aussi nous visons à créer des expériences significatives lors de nos réunions, mais aussi, comme l'ont fait Les Machines, à transformer la vie d'une ville et à stimuler la créativité à grande échelle.
Les participants au Sommet, sont des facilitateurs de culture créative au quotidien, Nantes sera un miroir pour refléter nos rêves d'un futur rempli d'art civique mais aussi de joie, d'émerveillement et de potentiel créatif.
---
Top photo: ELS 2017 participants gathering before an afternoon session at Stockholm Läns Museum. Photo by Raphaël Pincas.