[Shalaco Wordsmith is your typical Bay Area Renaissance man: he dabbles in web design, writing, photography, art, Burning Man, adventure and zombie pin-up girls. He contributed this piece about his involvement with the construction of the Temple of Whollyness in 2013.]
I'd like to tell you the story of what happened when I set out to do something I dreamed about doing, but thought I couldn't, and what I discovered along the way.
Intention
Arrival in Gerlach
Arrival on Playa
Temple's Arrival
Temple Build
Transition Ceremony
Temple Burn
Intention
I've been to That Thing in the Desert (TTITD) a handful of times and very much wanted to make that leap from attendee to participant by playing a part in creating the event. I dreamed of being on Man Krew (the crew that builds the Man), but felt it was a pie-in-the-sky idea that would never happen. I decided, however, to simply put my intentions out there and see what happens, instead of reciting to myself all the reasons I couldn't do it. I didn't make Man Krew. Instead I am approached with a role as 'Internet Wizard' for Temple Crew. I think to myself, "Establish an internet connection essential for the AutoCAD-based assembly of a massive pyramidal complex comprised of interlocking puzzle pieces of precision-machined wood, 80 miles from the nearest broadband-capable infrastructure, in the enormous, flat, dry, endorheic Pleistocene lakebed of ancient Lake Lahontan? Sure, why not. I hear it'll be a plug-and-play setup." 
Arrival in Gerlach
Rolling thunderstorms rumble in the distance as Quickdraw (Jeremy Paul) and I approach Gerlach. A powerful group of storm cells is hitting Black Rock City (BRC) and there are reports of heavy rains and pooling water everywhere. That "dry" playa was threatening to return to its old ways as Lake Lahontan. Burning Man's staff have put a Level 0 rain contingency plan into effect — a very technical way of saying that things are on total lockdown. There is no driving on playa, let alone in and out. Our brief stop in Gerlach has turned into an extended stay.
Gerlach is the last town on the way to Burning Man. To most "Burners", it's nothing more than an inconvenient 25MPH zone before reaching the long-awaited final destination of Black Rock City. During my extended stay, however, I see that Gerlach is as enchanting a place as it is overlooked. Few take the time to explore its beauty and mysteries, and even fewer have wandered, gotten lost and witnessed the wonder of its antiquated cemetery, composed of wooden emigrant-era tombstones, bleached by wind and sun into anonymity. To the untrained eye, Gerlach is just another dot on the map. But for those who know that the magick doesn't start and stop at the Burning Man gate between the last Monday in August and the first Monday in September, Gerlach and its many wonders, like the Miner's Club, are destinations in themselves.
Flash is bartending at the Miner's Club. The fast-talking New Englander, with his finger-in-the-light-socket white hair, is something of a legend, but I'm just starting to put all this together now. "Hey-yah! How-ya-doing?" he cackles  in his raspy voice, standing next to a sign that reads "There's other kinds of booze besides whiskey. SERIOUSLY." The place is overflowing with Department of Public Works (DPW) members (the rugged, hardened anti-heroes who build the infrastructure of Black Rock City). The room echoes with their radio chatter. At this point, they are no longer certain if it's their comrades — who are currently rained into BRC —that are stranded on playa or if we are stranded in Gerlach.
In any case, we're all staying in Gerlach, with no sign of a break in the storms for a handful of days. Flash, the self-proclaimed "largest slumlord of the playa", puts me up for the night.
I awaken to a flurry of inactivity. People are running in circles, accomplishing I-don't-know what. Between meeting half a dozen freshly-arrived Temple Crew members, I learn that there is a possible sliver of a gap between storm cells — a way for us to cross the threshold of Point One into the confines of the soon-to-be Black Rock City. Muster everything you can and forget the rest, because we're making a beeline for it! Hurriedly we pack,  our vehicles line the road's shoulder, and we stand and wait to see what will happen next. It takes a special kind of person to lead a Temple build. Lightning Clearwater the III is equal parts tender, charismatic, tenacious and plain fucking stubborn. If anyone is going to get through those gates, it's him. We load up our disheveled caravan and head to Point One.
Arrival on Playa
Coyote leads our company in serpentine patterns along remote paths of dry playa through the gates at Point One. In what SF Slim would later describe as "a humorously prescient coincidence", our early arrival passes welcome us to the "Lake Lahontan Retreat and Water Show".
Coyote is BRC's superintendent, and an original member of the DPW. We're just arriving, but he's already been out here two weeks, surveying every single arm, leg and intersection of the city with his elite, tight-knit team of 12 , working and sleeping in a plywood octagon where that golden spike first ritualistically penetrates the playa.
He takes us beyond the horizon to the place they have surveyed for Temple. Sparse settlements can be made out in the distance, a lone commissary tent, and a monolithic Man-base towering, yet still overshadowed by the horizon. We are led across a vast desert through an incredibly young Black Rock City — with no emergency medical services, no road signs, no spires. The first structures of Burning Man soon far behind us, we reach a blank expanse marked by a single orange flag. This is to be the Temple site.
Before Black Rock City
The playa is different than I've ever seen it. Packed hard from the rains. Deep cracks outline large chunks of playa, grouped like clusters of cells forming the skin of the desert and stretching to the horizon. There's something incredibly enchanting about Black Rock City when its population still lingers below a hundred. Before its rows of annular neighborhoods start to fill in with theme camps, before First Camp, Center Camp, and the port-o-potties arrive. Before the fences and streets and The Man come to town, it's an entirely blank sheet of toothy 300 lb. vintage coldpress rag paper.
Cowboy Carl's lone outpost along Razorback Mountain.

Temple's Arrival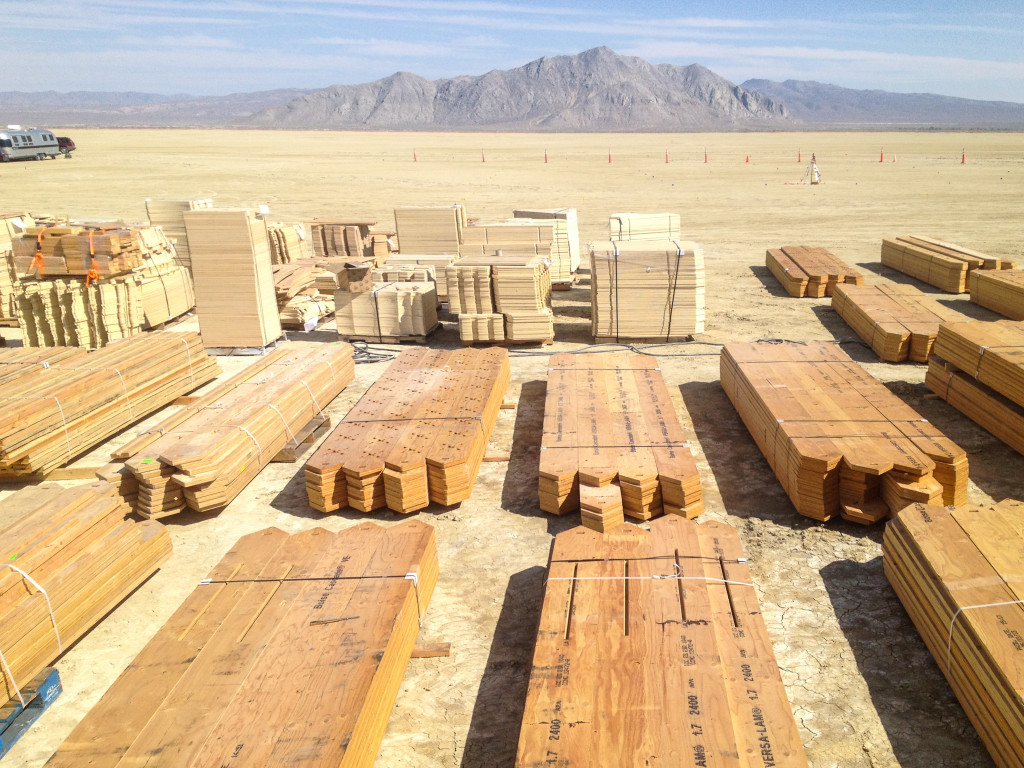 The Temple arrives, creating a striking contrast with the surrounding landscape. Precision-cut pieces of structural paralam and plywood, entirely flat-packed on flatbeds and semi-trucks. Attributes of its brilliant design by Gregg Fleishmen.
As we begin to survey the Temple build site and crew camp, there is a striking difference between our initial footprints, tire-tracks and brushstrokes, and the surrounding deserted desert landscape.
There is a stark contrast, a gapping disparity, a contradistinction between the gaping barren arid alkali flats, dried by wind and sun, laying open before us for miles in all directions… and the beginnings of a construction site.
Months of planning and engineering went into designing this structure, which will take weeks to build, only to exist for seven days. It's said to be the largest temporary interlocking wood structure ever. But isn't every structure temporary, in some sense of the word? The only difference is this one is intentionally so. Gregg Fleishman is the main designer and Terry Gross (Lightning) & Melissa Barron (Syn) are lead co-creators, spearheading the collaboration of a dozen artists and hundreds of volunteers to coalesce a unified vision.
Gregg is soft-spoken to say the least, but speaks with great gravity. You have to listen very attentively to catch most of what he is saying, and then take a moment to understand it. This majestic sanctuary is crafted completely out of geometric interlocking wood pieces that fit together without the use of nails, glue or metal fasteners. Its central pyramid is 87′ x 87′ at its base and 64′ tall.  And he's the one who knows how the 45 different shapes, the 603 major struts and 10,775 wooden pieces are to interlock to form The Temple of Whollyness.
Our Camp One of the splendid luxuries of working on Temple Crew is feeling like you are camping at the edge of infinity. Up until the event, the crew gets to camp on the edge of the horizon in deep playa. I'm just starting to realize that being recruited to Temple Crew has not been a consolation prize, but something far greater than I had even dreamed of. The surrealism of camping on a construction site in the dry lakebed of what was once one of the largest lakes in North America is only heightened by the fact that, since the Temple structure is only held together by interlocking pieces — no nails, no screws — it's the quietest construction site you could ever chance upon. Besides the booms, scissor lifts, VRs and cranes used to hoist pieces and get personnel to those hard-to-reach places, everything was assembled with hand tools and large custom-made wooden torque bars that looked like something out of the Flinstones.
What an amazing splendor it is to witness the open desert give way to the infrastructure and art installation of Black Rock City, a beautiful privilege. The transformation of an open landscape into a bustling metropolis.
It's beginning to look a lot like Burning Man… every time we meet. With the addition of the Spires, the open playa quickly begins to look a lot more like Black Rock City. Next the big art projects start rolling in. It is a wonder to see how quickly and easily Truth and Beauty is assembled. This nude figure emerging from the desert.
Temple Build
Turning back to the Temple, we see that now the measurements have been made. 96 individual temporary footings measured so precisely that each interlocking connection will be able to snap into place with only a mallet. We can now begin to assemble the Temple.
"It all begins with this humble looking but sublime structural connector node. Six identical pieces that puzzle together to form the keystones to the cluster structures we build." ~Syn
Heavy Equipment And Transpo (H.E.A.T.) are the unsung heroes of Burning Man. It's with their collaboration that every major art piece gets installed on playa. H.E.A.T operates the cranes, telescopic forklifts, 85′ articulated boom lifts, skid-steers, trenches, backhoes, hysters that do the heavy lifting necessary to build the infrastructure and large art installations at TTITD. You will find Chaos (H.E.A.T.'s manager) slinging two radios, and talking into both of them simultaneously. He knows where every piece of heavy equipment is on playa at any given time, where it's headed, and when it needs to be there.
Working into the sunset to complete the Temple on time. Heavy equipment shows up and the Temple of Whollyness begins to take shape. It took five days to measure the site to its exact specifications, however the five-story structure snaps together in just six days.
The rainstorms have left the playa packed and conditions ideal throughout most of the construction. Days are cool and calm. But eventually some dust storms roll through. Standing in front of the nearly complete Temple, I watch as a perfect day is overcome by a dust storm in thirty seconds and suddenly I can no longer see my shoelaces.
Now that the Temple is assembled and skinned, four of its component art installations can begin: stone, light, textile and sound.
Stone Choreography: The conceptual 'altar' and axis mundi for The Temple. For this aspect, Jael (James LaFemina) created his first sculpture. A 24-ton, 15-foot-tall black igneous basalt stone Insuksuk sculpture — a personification of the human spirit as a stone landmark used by the Inuit, Inupiat, Kalaallit, Yupik, and other peoples of the Arctic region as navigational aids. The sculpture is built from basalt Jael sourced from Mount Adams and the Yellowstone hot spot. Then he painstakingly stripped away layers of time to reveal its black core. The scale is magnificent, with some of the cuts on the basalt taking around five hours each on a large diamond wire saw. The sculpture will aid in focusing the energy of Temple and grounding the structure.
Textiles: Where form meets function. Bunnie Reiss and her team of 'Shady Ladies', (designers: Abi Kelly, Carmel Dunlap, and Rachael Fisher — and a team of talented female textile artists, quilters, weavers, knitters and seamstresses) came together to craft 4,000 square feet of textiles that complement and shade the courtyards of the Temple and its visitors from the harsh sun.
Light: Bentley Meeker uses the five different types of electric light: edison tungsten, incandescent, halogen, fluorescent, and LED, to give participants an awareness of the different types of lighting used since the advent of the electricity. Sound: "If the Temple is art framing space, Aaron Taylor Kuffner's creations are music that accent silence — the space between sounds and the space from which sound emerges and returns." Gongs meet robotics in an innovative approach to playing ancient instruments that create deep vibratory fields of moving air.
We invite the Paiutes to bless the Temple. Chairman Lowery and the Paiutes' spiritual leader Dean accepts our invitation and crafts a special ceremony at the Temple just before the event begins. It was crucial to honor the Paiutes since they are the keepers of the sacred land we have our annual event on, so it was incredibly important to include them in the spiritual heart of the event — the Temple.
Transition Ceremony
Now that the Temple is complete, it is time to gift it to the people.
An amazing celebration marks the transformation of the Temple from a collaborative conceptual piece realized by its creators to a canvas of remembrance for its visitors. Large pieces of decomposed granite (DG), initially dismissed as a potential hazard, were stacked in sculptures reminiscent of the Insuksuk, the center stone monolith. The Temple transforms as every nook, cranny and reachable space is filled with the love, torment, blessings, curses and overflowing feelings of its visitors. This final collaboration between Temple and attendees was best sublimely expressed by a sculpture designed by Arthur Harsuvanakit and Evan Atherton and constructed by attendees.
Burning Man Community Sculpture by Arthur Harsuvanakit and Evan Atherton
Temple Burn
I had never before missed a Temple burn. But as I arrived, it was already a heap of smoldering remains. The Temple had burned without me, and in so doing, had given me something to mourn. Something lost to the world that could never be replaced. But it was not truly gone. While helping to build the Temple, we had all created a place in our mind and the minds of others, living experiences and building relationships. As immortal as it was ephemeral. I walked up to its ashes and launched the orange flag that marked its placement into its flaming remains. A piece that was once so integral, that I had found masquerading as M.O.O.P. sent back into itself.
This year I requested to be on Survey Crew. Still waiting to see if opportunity will once again present itself from an unexpected direction.