Burning Man culture creates remarkable opportunities for sharing knowledge. Sometimes this learning takes place in a formal environment, but more often it happens out in the world within crews, between teams, and among individuals as we work together on projects we're passionate about.
In fact, Education is one of Burning Man Project's six program areas. Co-learning is important enough in the global community that AfrikaBurn made Each One Teach One their 11th Principle.
We just took an exciting next step toward formalizing our community's extraordinary practices of teaching and learning. In January 2022, our Nevada Operations team officially launched the Gerlach Workforce Development Center (GWDC), a physical open learning community in Gerlach, Nevada.
How did this come to be? During the pandemic, Burning Man Project staff got busy helping to grow the local economy and create new jobs in Gerlach. We wanted to find a way to bridge the gap and make those jobs accessible to locals in Nevada as well as the larger Burning Man community. 
In January of 2021 we piloted a workforce development program in Gerlach. Five work-study students from Deep Springs College came to Gerlach to study Burning Man Project's community development efforts and prototype multiple work training options. Graduate students from NYU's Urban Lab took on the plan, and presented it over the summer at our TrailBLAZE program. Washoe County learned about the work, and invited us to apply for a grant to support it.
An Education Center for Northern Nevada Locals, the Global Burning Man Community and Staff
The GWDC opens several of Burning Man Project's Gerlach properties to offer lodging and classes of all kinds, including: trade skills with certifications that will help locals get jobs, training for potential Black Rock City Department of Public Works (DPW) crew, accredited classes, leadership training, and professional career-focused programs. 
Classes are already underway. In January 2022, the Center hosted 23 students — including Burners, Northern Nevada locals, and Black Rock City staff. Twelve out of these 23 students attended on full scholarships supported by a private donor. The students studied solar power, welding, and inclusive growth — all taught by experts in their respective fields. Out-of-town students had the option to reserve lodging at the Gerlach Estates, owned and operated by Burning Man Project.
"It's a classroom full of wildly different topics — where you can study Burning Man's impact on Gerlach, learn how to weld for your next job or art project, or get tutored in how to use solar to take your camp off of fossil fuels," explained project lead Elizabeth 'Bandit' Howell. "While this program may be small, we think this unique offering of classes brings together a culture as diverse as Black Rock City. If we set the table right, we can grow from here."
Activating Burning Man Project's Gerlach Properties Year-round
A two-hour drive (about 100 miles northeast) from Reno, Gerlach sits right on the edge of the Black Rock Desert, the last stop for most Burners before they arrive on the playa. During peak times, Gerlach serves as the home base for Burning Man Project's Department of Public Works (DPW), the crew that plans, builds, and strikes the initial infrastructure of Black Rock City. It's also the launching pad for the dozens of departments, artists, theme camps, mutant vehicles, and participants who make up our 80,000 person autonomous community. You can now take a virtual 360 tour of Gerlach!
Burning Man Project's Nevada Operations team manages several properties in Gerlach that are primarily used to support Black Rock City, but have typically stayed vacant during "the other 51 weeks." By creating programming when Gerlach is not flooded with Burners, the GWDC will contribute to permanent social and economic activity in the region.
Creating Employment Opportunities and Driving Economic Development 
GWDC is strategically located in Gerlach to serve as the engine for both workforce education and a driver of economic development in Gerlach and Northern Nevada.
"So very often when you do economic development, local residents legitimately criticize that the jobs created will not be accessible to the local community," explained Matthew 'Chef' Kwatinetz, Burning Man Project's Senior Director of Nevada Operations. "Building on principles of inclusive growth, Burning Man is filling that gap by providing training primarily targeted at local residents as well as our broader community."
Gabrielle Enfield is the Community Reinvestment Manager for Washoe County. She visited January's session, and shared a presentation about the county's plans for the community. "The GWDC aligns with our work to support a space and resources for community members to access computers and broadband," she said. "We hope to open up opportunities for teleworking and tele-learning, so locals can participate in more of the distance economy."
Seth Schrenzel has lived in Gerlach full time for eight years. "An increasing number of members of the Burning Man community are moving here to Gerlach, and that is definitely having an impact, one that I see as positive… more kids in the school, more patrons at the local businesses… Through new planned projects at the trailer park, the 360 property, and other town properties, that's probably the best thing that Burning Man is doing: building infrastructure and jobs and increasing the desirability of living in Gerlach."
Molly Starkovich spent years working on DPW crews in Black Rock City. Now she lives and works in Gerlach as GWDC's On-site Project Manager. She described the ethos behind GWDC: "You can do something for yourself. And then you can do something for yourself and for other people. You can do the same thing, but if you tweak it a little bit, you can include more benefits to the folks around you and the environment around you."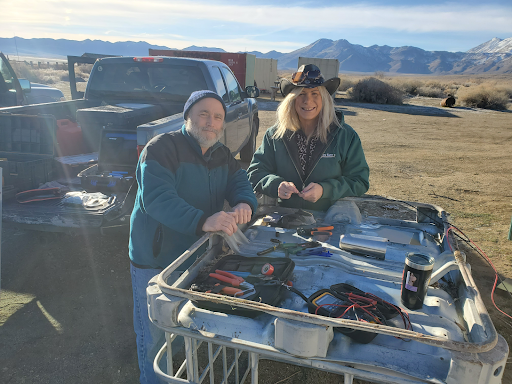 Four Programs, Financially Accessible to All
Key to the purpose and success of GWDC is making sure anyone can access the courses. January's multi-day courses ranged in price from $210 to $270, and tickets were available for any adult to purchase. Nobody was turned away for lack of funds. A scholarship established by an anonymous donor covered full tuition for more than half of the attendees. 
"We really want to make it feel like a community college. They're all very, very accessible courses. We benchmark against what community colleges in the area teach, and we're a fifth to a tenth of the price for the same topics," Bandit said.
Part of the inspiration for this vision was the success of Burning Man Hive, an online space for Burners to learn, share, and connect. Burning Man Project staff and community members have built several courses in Hive over the pandemic. Now online learning can become in-person classes that offer hands-on experience. Bruce 'Badger' Cooper's Solar Power 101 course began in Hive; in January he brought it to GWDC, where students could roll up their sleeves and build a solar array.
Long-time DPW staffer Chris 'Weldboy' Goodin lives in Gerlach and teaches the GWDC welding course. "Any injection of further education in this area is fantastic because it's just not really something that is offered here," he observed.
"As far as local engagement goes, people are thirsty for something to do in those long winter days," added Bandit. "They want the connection. Seeing that spark of local engagement is great."
The GWDC team is offering courses that fit into five areas of focus:
Certification Training

such as heavy equipment, OSHA 30, and first aid

DPW University

, offering employment and management training for DPW crew

Burning Man Hive courses

to complement courses offered online

Accredited college-level courses that could ultimately be applied to degrees
Executive Education

targeting mid-career professionals
In January, three courses were available — all taught by Burners:
Solar Power 101

with Renewables for Artists Team member Bruce 'Badger' Cooper

Welding Theory and Practical Lab

with Black Rock Station Manager Chris 'Weldboy' Goodin

Inclusive Growth: Lectures On Economic Development

with Nevada Operations Senior Director Matthew 'Chef' Kwatinetz
Scaling From Five, to 50, to More Than 100 Students 
Looking one year into the future, we hope to accommodate up to 50 students for the next round of courses. At that point, facilities in Gerlach will need an upgrade to create more classrooms and housing. By 2024 we plan to run three GWDC semesters per year, each with 50 to 75 students.
GWDC will expand its curriculum by inviting instructors from other schools and nonprofits to come and teach. Beyond classrooms and workshops, the Nevada Operations team is imagining a business incubator, net zero hotel, year round RV park, mini-golf course, affordable housing, and re-opening the radio station in Gerlach. Ten years from now? Plans are afoot to develop GWDC into an accredited graduate institute. These programs could help meet the increased demand for education for skilled trades that the Washington Post recently documented.
"The hope is people will see we're not just talking about things," Chef concluded. "We are doing them. It is a moving train, and we invite everyone in our community to come help us bring Burning Man culture into the world."
Do you have questions about upcoming sessions? Is there programming you'd like to see offered through the GWDC? Want to recommend an instructor for future sessions? Email the Gerlach Workforce Development Center at: gerlachwdc@burningman.org.
---
Cover image collage of GWDC logo and trainings (Photos by Molly Starkovich)
Virtual 360 Gerlach tour created by Steve Tietze @ibareitall on Instagram