Burning Man Arts is thrilled to announce the artworks selected for Black Rock City 2023 Honoraria art grants. There's nothing quite like this first preview of art installations to make our dusty city start to feel real!
The Selection Process
When we select the Honoraria projects, the artworks we fund reflect an experience we would like to create, rather than a value judgment. We don't choose the 75 "best" artworks — whatever that means! — but instead look to build a collection that offers a full range of aesthetics and experiences for participants.
Our goal is to include a wide variety of artworks — from large to small, intimate to monumental, vertical to horizontal, and everything in between. We include whimsical, playful projects; outlandish, fiery things; and serene, meditative works. We welcome both novel interpretations of the annual theme, and artworks that aren't related to the theme at all; artworks of striking beauty; and conceptual projects that make us contemplate. We're always keeping in mind interactivity, visual impact, and sheer creativity, while supporting both emerging and experienced artists. Finally, we aim to celebrate diversity and encourage environmental sustainability. 
One new element that we're aware of is the influence of Artificial Intelligence on both the images and the written materials in grant applications. As cool as it would be to see a 42' tall rideable snail-cat with a glowing fractal shell and laser eyes shooting fire poofers out of its ears, we often ask: "But will it really look like that?"
This year artists submitted 610 Letters of Intent, and we invited 390 projects to submit full proposals. We are happy to share that 75 projects will receive funding for Black Rock City in 2023! 
2023 Theme — Animalia
Wow, are we feeling the Animalia theme! Our community was super inspired by the concept; you can probably imagine how many critters, beasts, quadrupeds, mythical creatures, and various other species were dreamt up as art projects for this year's event. We always select some theme-related projects, and this year we have more than ever with a whopping 45% of Honoraria projects connected to the theme!
Some projects feature literal animals. This year the playa will have a veritable Noah's Ark of turtles, elephants, octopi, bunnies, cats, ducks, owls, butterflies, bears, fish, rhinos, spiders, and dinosaurs. (Oh my!) There are also mythical creatures you may recognize: for example, a sphinx, a siren, and a dragon-inspired, 1,200-lb. gong, "DraGong." Other projects feature animalia that can only be found in the wildly creative brains of artists. We can't wait to see "Burden of the Beast" by Walker Babington and Sabatom Studios — a bison with a polyhedric folk-arty shack built into its torso. If you can't find the species you are looking for, "Exquisite Animalus" invites you to rotate the four sections to create your own unique combination of illustrated ears, face, torso, and feet, à la exquisite corpse.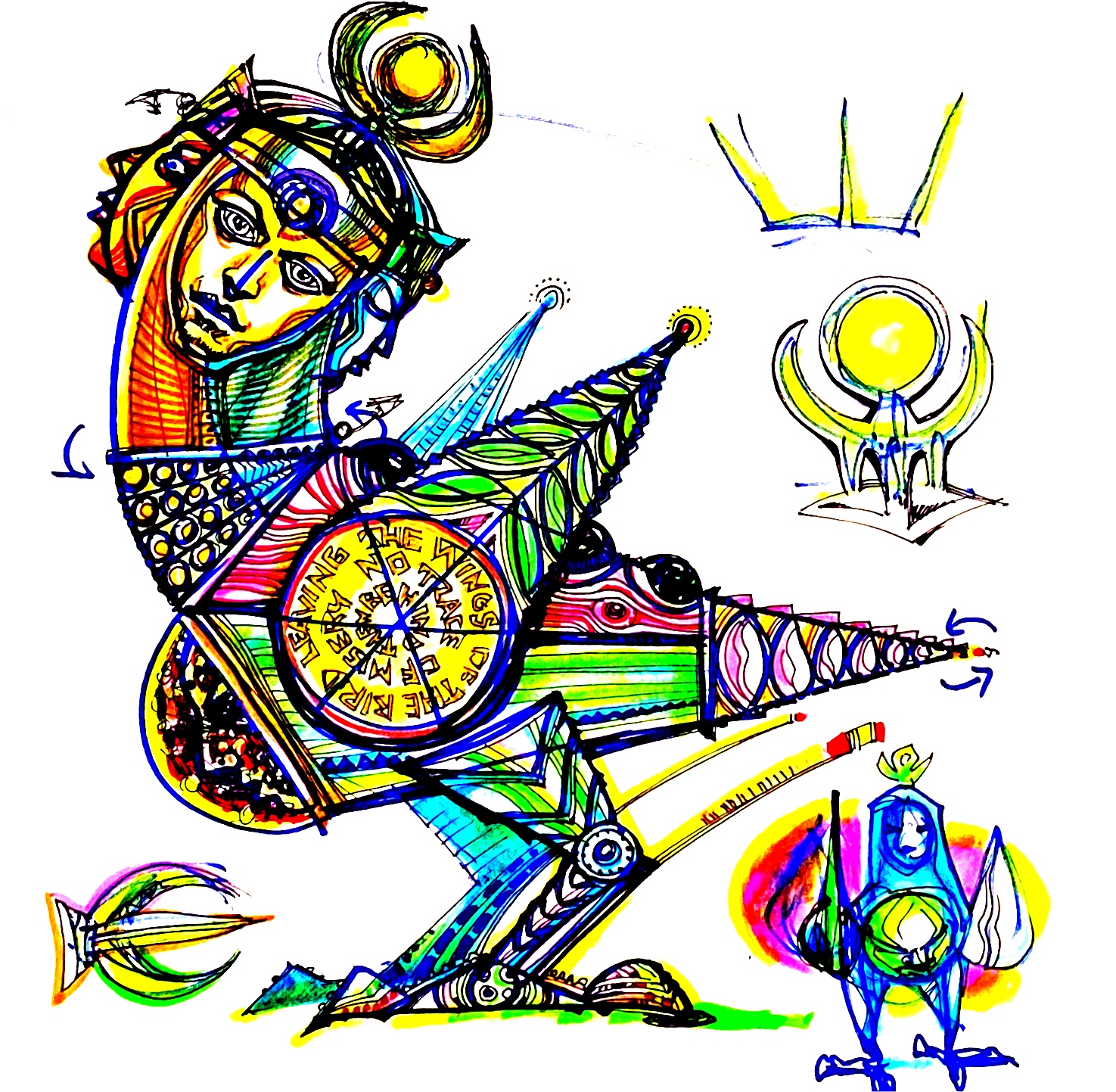 We were especially inspired by the many proposals that fit with the theme and highlighted Mexican or South American culture. We'll have installations featuring recognizable, brightly colored Mexican folk art sculptures that are typically seen as wood carvings from the Oaxacan region. "Quetzalcoatl Reborn" depicts the feathered-serpent deity from pre-Hispanic Mesoamerican culture and literature. "Axolotl: A Spirit Guide" may look equally fantastical, but it's an interpretation of a real, near-extinct salamander that has been native to the Mexico City region since Aztec times. "Yuluka" represents the concept of duality in the form of a magical, mythical, double-headed creature rooted in pre-Hispanic Colombian culture. 
Other Highlights and Themes
If 2022 was about returning to our home in BRC, 2023 for many is a transitional period of emerging from the pandemic years and entering into a time of collective uncertainty and change. Many of the proposals we received featured doorways, portals, or other liminal spaces to express this collective experience. You can see this highlighted in the series of entryways in "The Star Kingdom of Oba," which is inspired by mystics, magic and supernatural influences of the ancient Benin Empire. 
We were awed by several projects featuring the craftsmanship and beauty of fine craft. One of the more monumental projects will be "1000 Hands," a collectively-crafted tapestry that will stand 50' tall and invite participants to swing from the bottom. "Living Knit Pavilion" uses very fun tech-y textiles: 3D-knitted optically and electrically-active yarns that generate and record multi-dimensional sensor data based on physical interaction and drive a responsive lighting system for collective expression and experience. Next level!
In addition to 19 states in the US plus the unincorporated territory Puerto Rico, we're pleased to have 15 international Honoraria projects this year. There are four from Mexico, four from Canada, and one each from Belgium, France, India, Morocco, Nigeria, Spain and Ukraine. There are several artists who have just started making art recently. Eight 2023 Honoraria recipients will be coming to Black Rock City for the first time!

Burning Man is known for fire art, and we are happy to report that 16 Honoraria projects will play with fire and flame effects. While burn projects all require separate review and approval, there are three artists who hope to execute a "burn reveal" where part of the sculpture burns away to reveal a surprise. The big stunner and largest burn this year will be Michael Garlington's "Chapel of Babel, a sensational 60' tower emerging from an illusory cityscape, covered with his signature, archetypal black and white photography. "Welcome to the horror and the wonder," he says. That sounds about right.
At night, flame effects attract us all towards the warmth and beauty of fire art. "The Lite of Spring" invites us to sit on a throne adorned with flaming wings, and we look forward to cozying up under the fire ceiling captured under a flower bloom in "Ignus."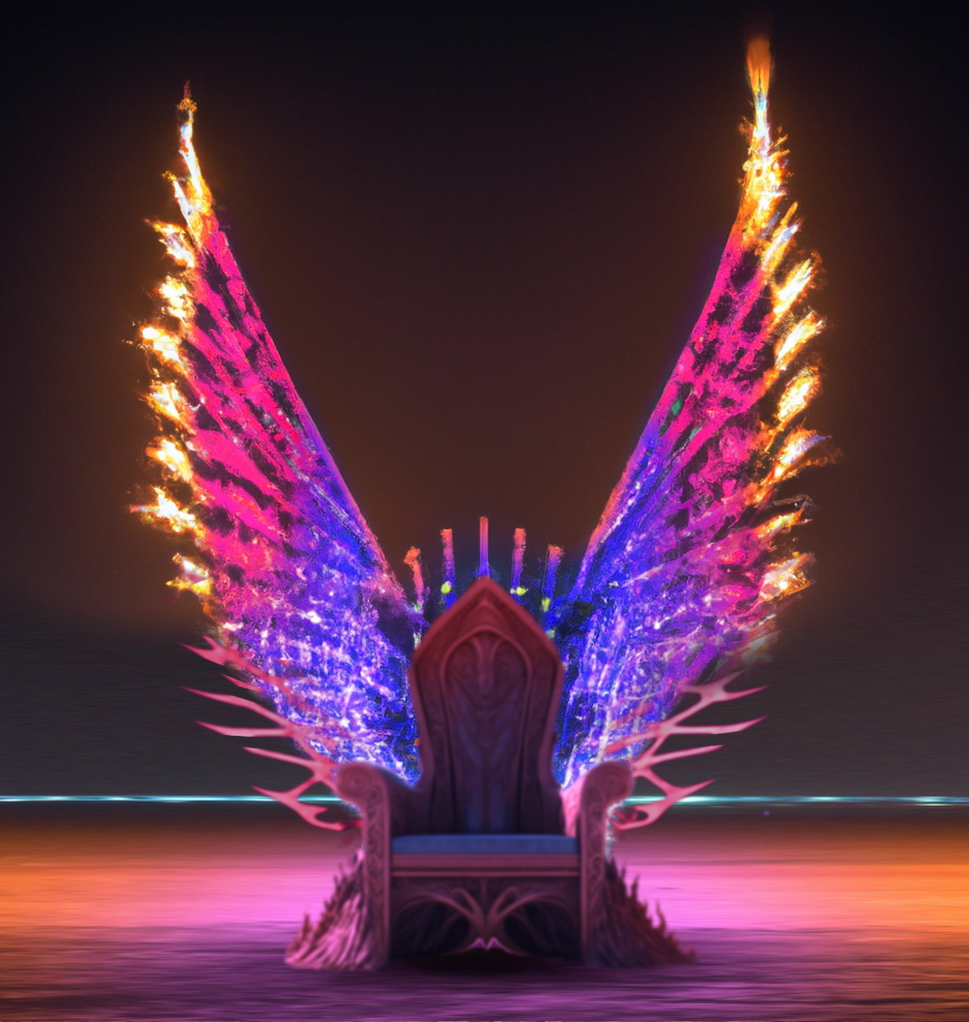 There's so much to be excited about, and we can't wait to share it all with you. 
Gender Diversity
We are thrilled that 43% of the 2023 Honoraria projects have a lead or co-lead who identifies as female or non-binary, an increase of 7% over last year. In "Justice," Jenny Mount and the Department of Spontaneous Combustion explore the role of the justice system, women, and equality. Hind Baghdadi will bring a larger-than-life intricate tea set, built on-site in Morocco. We're excited about our first-ever grantee from Alabama, artist Hannah Warner. Two of the projects from Canada, "Life is a Circus" and "Animated Wind Powered Carousels" are by women artists and both have a very whimsical charm. 
Kirsten Berg, known for her exquisite mirrored installations, will explore color by using magenta dichroic mirror steel for her new sculpture, "Oneirotica." Kendrick Wanamaker is creating a larger-than-life tarot card in "The Lovers (T4T)," which celebrates trans beauty, community support and belonging. And finally the seriously silly "Duck, Duck, Gaggle" brings a charming Midwestern aesthetic with its costumed geese lawn ornaments, where participants are invited to chillax, commune, preen, or play a game of Duck, Duck, Goose. Where else but in Black Rock City do you get such a mix?!
Sustainable Art 
Last year we invited Honoraria applicants to consider how their projects will address the challenges and opportunities around sustainability in order to align with Burning Man Project's 2030 Environmental Sustainability Roadmap. After a strong showing last year, we've become even more rigorous about what we consider sustainable. We looked for proposals that went beyond solar power, bringing sustainability into other aspects of the project — including (but not limited to!) concept, transportation, or even materials. We're pleased to report that 35% of this year's projects demonstrate a significant effort towards sustainability!
"Liquid Forest" is made from single-use plastic waste, creating three jellyfish-inspired creatures powered by solar that will turn into a bioluminescent playground at night. Jen Lewin will return with her Ursa Minor sculpture from 2022, joined by the much larger Ursa Major to create "The Ursas," which highlights a selection of animals that have gone extinct in just the past two years. Hannah Lewis will create "We Must Sleep In It," a small house constructed from repurposed fast fashion and fast furniture waste, to educate, create conversation, and initiate change in our consumerist choices. 
Charlie Gadeken will use sustainable and recyclable materials to create "Elder Mother," a monumental, awe-inspiring 40' tall metal tree that moves in the wind and speaks with the languages of light and color. "The Winged Turtle" is one of several turtles you will see on playa (turtles all the way down!); it has developed wings to escape a sea full of plastic waste, reminding humans that we cannot escape from the damage we have caused. Mia Hanak and Millennium ART are partnering with the Washoe Tribe to create "LAKA'LELUP | Coming Together for a Common Purpose." It will be powered by a combination of solar panels with solar battery packs and biodiesel generators with biofuel, and amplifies the belief that we are one with our environment and we must coexist with our natural ecosystems.
How You Can Get Involved
Of course, most of the more than 400 art installations in Black Rock City come without financial support from Burning Man Project. We are serious about our commitment to support ALL artists, and there are many other ways (besides financial) that we help artists to ensure they are successful. For example, we may support artists with heavy equipment, engineering review, communications outreach, and partnership with our team along the way.
Peruse the following list of 2023 BRC Honoraria projects, and if you have a vision that is missing from the list, you are warmly invited to make it happen. Check out this recent article written by Erin Douglas, a 2022 Honorarium recipient, for advice that is relevant to all artists about bringing art to BRC. Do you have skills to contribute and want to help an existing art project? Then please check out our collaboration tool, Spark.
Without further ado, we'd like to introduce this year's Honoraria recipients. Drum roll, please…
The 2023 Black Rock City Honoraria Recipients
1000 & 1 — Tyler FuQua and Tyler FuQua Creations — Eagle Creek, OR
1000 Hands — Nicholas DeBruyne and Maria Gotay with Wevolve Labs & Art Island — Austin, TX
Alebrijes — Laura Salcido — San Francisco, CA
Alight — Trey Watkins and the Frogma Art Collective — El Segundo, CA
Animated Wind-Powered Carousels — Esmeralda Nadeau-Jasso — Slocan, British Columbia, Canada
Anya and the Void Bunnies — Steffin Griswold — Robbinsdale, MN
ATABEY's Treasure — El NiNo Alicea — Trujillo Alto, Puerto Rico
Axolotl: A Spirit Guide — Ricardo Martinez — Schaerbeek, Brussels, Belgium
Barrel Oh' Monkeys "The Great Escape" — Tabasco Mills and the Iron Monkeys — Seattle, WA
Black Rock City Supper Club — Carlyn Perona King and Black Rock City Supper Club — Reno, NV
Black Rock Station — Wes Modes and Black Rock Transportation Company — Felton, CA
Build A Seat 2.0 — Mo Osunbor and Build A Seat — Brooklyn, NY
Burden of the Beast — Walker Babington and Sabatom Studios — New Orleans, LA
Burning Time — Robert Bruce — Coburg, OR
Cactus of Life. A Mirror of Truth. Awaken Your True Self. — David Lombrozo, Tania Ordoñez, Pablo Fernandez, and Humerto Wong — Mexico City, Mexico
Chapel of Babel — Michael Garlington — Petaluma, CA
Conversation with a Squad — Alexia DeFluff — Les Roches L'Eveque, France
Cradle to Grave, the battle to generate the maximum progressive transformation. — Drew Hsu and Sepia Syndicate — Timnath, CO
Crystal Evolution — Kay Sims and Kasey Minor — Portland, OR
DraGong — Michael Malecki — Rockford, IL
Duck, Duck, Gaggle — Meghan Rimelspach — Towson, MD
Elder Mother — Charles Gadeken — San Francisco, CA
Exquisite Animalus — KJ Boheme & Stefan Spins — New York City, NY
Farmer the Rigger — Zulu Heru and Burger Boys — Los Angeles, CA
Gear Heart — Kelly O'Brien — Houston, TX
Hubowl Telescope — Daniel Adrian Coello Araoz and Laboratorio Mexicano de Diseño — Benito Juárez, Distrito Federal, Mexico
Ignus — Jordie Laidlaw — Terrace, British Columbia, Canada
Infinity — Matt McConnell — Raleigh, NC
Infinity Swing — Sharon Pedrini — New York, NY
Jíbaro Soy — Mark Rivera and Kidnetick — Bayamon, Puerto Rico
Justice — Jenny Mount and Department of Spontaneous Combustion — Richmond, CA
LAKA'LELUP | Coming Together for a Common Purpose — Mia Hanak and Millennium ART — Missoula, MT
Life is a Circus — Sandra Bérubé — Vancouver, British Columbia, Canada
Lincoln Bear — Mr and Mrs Ferguson Art — Alameda, CA
Liquid Forest — Richard Wilks — Santa Monica, CA
Living Knit Pavilion — Irmandy Wicaksono and The Antidisciplinary Collective — Cambridge, MA
Los Animales de la Playa — Mark Ramos and Muchos Amigos — Forest Knolls, CA
Loss in Translation — Mona Wang and Hami Melon Benevolent Association — Oakland, CA
Lost Reflections — Elodie Mitchell and The Real Grass — Durham, NH
Love thy Beast — Kristi Narvaez — Portland, OR
Lucid Beacon — Hannah Warner — Tuscaloosa, AL
Mariposa — Christopher Schardt — Oakland, CA
Monster — Erin Jaeger-Freeborn and Carly Moore: Kitsune — Calgary, Alberta, Canada
Moroccan ParTea — Hind Baghdadi aka Lady Gaia — Morocco City, Morocco
Nazar — Sukant Panigrahy and Sandeep Manyam (Codewarrior) and The Discovery's Collective — Mumbai, India
Of a Temporary Nature 2.0 — P. Michael Quinn — Beechgrove, TN
OHM — Colin Bowring — Oakland, CA
Oneirotica — Kirsten Berg — Berkeley, CA
Over Ruled — Cody Smith and Looking Up Arts — San Francisco, CA
PādaPagoda — Dawn Jian — San Mateo, CA
Quetzalcoatl Reborn — Leyla Issa, Lisa Regan, Ivana Palma and Crescent Works — Naucalpan, Mexico
Rain God — Miguel Guzman — Joshua Tree, CA
Recyclosaurus Renocores (aka R2) — Lynda Traves and Reno Core Project — Reno, NV
Snailing Around Splay-ro-Graph — Rob Colbert and Mountain Mayhem, Snailing Around — Fort Collins, CO
Sparkle Bonies — Meredith Braden and Society for Humerus Art — Alameda, CA
Spider Trap — Josh Zubkoff and Looking Up Arts — San Francisco, CA
Superior (Mother) — Kate Kuaimoku and Aggregate Group — Oakland, CA
The Council of Animals (what to do about the monkeys) — Quill Hyde — Tonasket, WA
The Hedgehog Temple — Yaroslav Korets and Kurenivka — Kiev, Ukraine
The Journey Aquatic — Mark Dill — Fleming Island, FL
The Lite of Spring — Ronnie Allman and The Brat Pack — San Francisco, CA
The Lovers (T4T) — Kendrick Wanamaker and Little Arcana Arts Collective — Seattle, WA
The Prairie of Possibilities — James Gwertzman and Moonlight Collective — Mercer Island, WA
The Solar Library Phase 2 — Jared Ficklin and The Other Singularity — Austin, TX
The Sphinx — Martin Taylor and Chromaforms — Oakland, CA
The Spirit of the Healing Siren — Turburam Sandagdorj — Reno, NV
The Star Kingdom of Oba — Dipo Doherty, Jacquelyn Omotalade and ART|Unknown — Lagos, Nigeria
The Ursas — Jen Lewin Studio — Brooklyn, NY
The Winged Turtle — Lolo Garner Art and The Factory Art — Palma, Spain
Tower of Tooter — Robert Cox — Kalama, WA
Trust — Stephanie "Paige" Tashner — Richmond, CA
Unfolding Humanity — Diane Hoffoss and ArtBuilds — San Diego, CA
We Must Sleep In It — Hannah Lewis — Los Angeles, CA
Worth a Thousand Words — Debbie Lambin — Carson City, NV
Yuluka — Camilo Quimbayo / Santiago Caro — Mexico City, Mexico
Full project descriptions with images and links will be available later in the spring.
The BRC Honoraria Program relies on the generosity of our community. You can help support this program and an array of on- and off-playa artist services and our nonprofit mission by making a gift here.
We're so grateful to all the artists who will be sharing their creativity in Black Rock City in 2023, and we can't wait to explore this outpouring of creativity together!
---
Cover image of "Yuluka" by Camilo Quimbayo and Santiago Caro